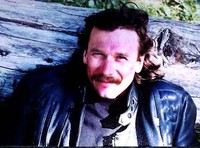 Beloved father and grandfather Robert "Mike" Michael Lentz, 56, was taken from this earth unexpectedly Sunday, May 20, 2012 at his home in Delta Junction.
Mike was born December 18, 1955 to Carl "Lucky" and Barbara Lentz in Colorado Spring, CO. They moved back to Delta Junction when Mike was 3 months old after Lucky got out of the Army.
Mike lived in Delta Junction until he graduated from Delta High School in 1974. He moved back out of state to marry his high school sweetheart and live in South Dakota and Wyoming. In 1979, Mike became the proud father to his only son, Rance, when they lived in Steamboat Springs, CO. They moved as a family to Springerville, AZ before returning to Delta Junction in 1981 until they divorced in 2002. He then met and lived out the rest of his life with his partner Tina Kezer in Delta Junction.
During his 50-year residence in Delta Junction he worked as a Journeyman Heavy Equipment Operator out of the Local 302 Operating Engineers Union over his entire working career until retirement in 2008, owner/operator of the Clearwater Lodge from 1989-2003, and Alyeska Pipeline Service Company as a Tech Level 6 from 1989-2003. Mike accomplished much in his life and was an avid outdoorsman. This included everything from racing snow machines, cars, and motorcycles, heavy equipment operating, welding and fabricating, gold panning/mining, archeology, metal detecting, fishing, and hunting. Mike was fortunate enough to race the Iron Dog 3 times in his life. Unbeknownst to many is that Mike was a highly talented artist, which included his love for drawing, photography, and ivory and silver jewelry craftsmanship. He also could be found down on the Clearwater River with his fly pole, as this was his greatest hobby. Mike lived his life to the fullest. He was a man known for his kind and generous heart, helping hand, witty humor, and extreme love for his family.
Mike is survived by his son and daughter-in-law Rance and Angela Lentz; grandsons, Gage, Dade, and Rance of Delta Junction; Father and stepmother Lucky and Vernell Lentz of Hanson, ID; sister and brother-in-law Kim and Danny Wood of North Pole; Niece Brynn Wood; great-nieces Cierra and Cailee of Fairbanks; nephew and niece-in-law Brett and Sara Wood of Fairbanks; and partner Tina Kezer of Delta Junction. He was preceded in death by his mother, Barbara Jean Vegoran, brother, Rance E. Lentz, grandfather and grandmother Al and Lois Remington, grandfather Cloyce Lentz, and grandmother Kathryn Boss.
No services are planned to respect Mike's wishes. In lieu of flowers the family is asking for memorial donations to be entrusted to Mt. McKinley Bank in support of medical research.