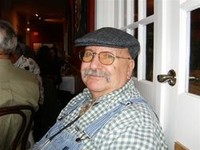 Joseph Hildreth January 18, 1937 - September 17, 2011
Anchorage resident and retired Alaska State Trooper 1st Sgt. Joseph K. Hildreth, 74, died Saturday, September 17th, 2011. His second career was with the Alyeska Pipeline Service Company as a Communications and Radio Technician in the Valdez Unit.
Joe was born January 18, 1937, in Tacoma, Washington, to Herman J. and Pearl A. (West) Hildreth.
He graduated from Puyallup High School in 1955. He married Marilyn A. Humphreys on July 18, 1959, at Ft. Lawton, Washington.
After high school Joe received telephone training and worked full-time with Pacific Bell and he was also a full-time volunteer with the Puyallup Fire Department.
He came to Alaska in the 1950's while serving in the U.S. Army's Alaska Communications Service until 1967 serving at Fort Wainwright and Juneau where he also was Assistant Fire Chief of Glacier Volunteer Fire Department. After his discharge, he was employed by the State of Alaska Division of Fire Prevention as Assistant Fire Marshal (1967 - 1969), Greater Anchorage Area Borough Fire Department as Chief Fire Marshal and Assistant Fire Chief, (1969 - 1974), State of Alaska Division of Alaska State Troopers as Chief Arson Investigator, Crime Lab Supervisor and First Sergeant of the Bethel Post. After retiring from the State in 1987, Joe worked as a technician for United Utilities Corporation in Bethel. After Joe's wife Marilyn passed away August 6, 1989, Joe became a Division Manager for United Utilities in Anchorage. Joe then went to work for GCI and worked for Alyeska Pipeline Company in Valdez as a Communications and Radio Technician.
Joe met and married Juliet Degnan and at time of death were married for 20 years.
He had lived in Alaska for 54 years.
In retirement he enjoyed tinkering with electronics, he was an avid ham operator (KL7DWE) and enjoyed time by a campfire with family and friends.
Joe was a life member of Fraternal Order of Alaska State Troopers, National Rifle Association and member of the Pioneers of Alaska, the Shriner's, Legion of Honor, and Royal Order of the Jesters Polar Court #182 , where he was the Director in 2010
His family wrote: Joe's generosity and kind heart were an inspiration to his family. He lived his life with loyalty, integrity and courage as he was dedicated to his career, family and friends while sharing his interests with others with the intent to teach them, yet he would never push you too hard so you wouldn't like it. He demonstrated a strong work ethic and commitment to anything that he put his mind to do. He was a quick wit and wasn't afraid to liven up a room or any situation with a joke.
He is survived by his wife Juliet; daughter and son-in-law, Rebecca and Steve Brunger, daughter Susan Hildreth and son Mark Hildreth of Palmer, son and daughter-in-law Thomas and Mary Hildreth and Richard and Marlene Hildreth of Wasilla, and son Scott Hildreth of Seattle WA. Joe is also survived by his grandchildren Michelle, Tanya, Bryan, Nicholas, Katherine, Kyle, Christopher, Laura, Timothy, Allison, William, Michael and Jordan and great granddaughter Irelyn. Joe is also survived by his wife Juliet, sister and brother-in law Mythol and Fred Benninghofen of Heath, Ohio and sister-in-law Lili Hildreth of Pierrefonds, Quebec Canada. Joe was preceded in death by his first wife, Marilyn; an infant child; his parents Herman and Pearl, brothers, Herman and Larry, daughter-in-law Lorri and his favorite comedian George Carlin.
A visitation will be held Sunday, October 2, 2011 from 10 a.m. to 12 p.m. at the Evergreen Memorial Chapel, 737 E St Anchorage Alaska 9950-3529. Following the visitation, there will be a Celebration of Life from 1 p.m. to 4 p.m. at the AlAska Shrine Temple, 1930 E Northern Lights Blvd., Anchorage Alaska 99508-4042. Internment will be at Fort Richardson National Cemetery on Monday, October 3rd, 2011 at 12 p.m. Joe's arrangement were by Janssen Funeral Homes 907- 279-5477. Please feel free to sign the guestbook.
If you would like to send flowers, please send them to the AlAska Shrine Temple, 1930 E Northern Lights Blvd., Anchorage Alaska 99508-4042 or to Shriner's Hospital for Children for the Sunday, October 2nd, 2011 Celebration of Life for Joe.