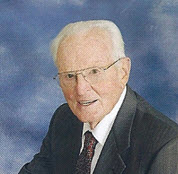 H.J. "Robbie" Robinson died on July 29, 2014 at the age of 87 after a month long battle against an aggressive systemic infection.
Robbie was born in Woburn, MA where he attended Woburn High School and was president of his graduating class. He served in the Coast Guard at the end of WWII and went on to graduate with a degree in mechanical engineering from Rensselaer Polytechnic Institute on the GI bill. During his career, Robbie lived and worked in Bombay (Mumbai), India and with his family in Sungei Gerong and Lirik, Indonesia, Singapore and Durban, South Africa.
In 1974, a job with Alyeska Pipeline Service Company brought him and his family to Alaska where he grew deep roots within the Anchorage community. Robbie retired from Alyeska Pipeline Company in 1985, and after working as a consultant for a few years, he devoted his time and considerable energy to volunteer work both locally and around the world.
In the last three decades, he continued and expanded his multifaceted community activities and was an active leader and participant in Anchor Park United Methodist Church and the Alaska Methodist Conference, Habitat for Humanity, Antique Auto Mushers of Alaska, Toastmasters, Alaska Society for Quality Control, Fellowship In Serving Humanity (F.I.S.H.) and Alaska Blood Bank. When Robbie was taken ill, he was in the midst of planning his 75th Woburn High School reunion on August 27, 2014. As always his passion inspired others and there will be over one hundred attendees, eighty years and older, representing the graduating classes of 1935 - 1949 from this small high school. Sadly, Robbie will not be there, but the event will go forward as planned under the leadership of a family member.
Robbie is survived by Marianne, his wife of fifty-seven years, his three children, Elsa of Irvine, CA, Martha of Anchorage, AK, and John and his wife, Lisa, of Tigard, OR, family member Patrick Goodyear of Anchorage, AK and four granddaughters, Helen and Grace of Anchorage and Jaclyn and Brooke of Tigard. Robbie is also survived by his three siblings, Mae Rabenius of Apex, NC, Roland Robinson of Sun City West, AZ and Martha Baldwin of Cary, NC. Robbie embraced life to the fullest and touched so many lives. He will be greatly missed.
A Celebration of Life for Robbie will be held at Anchor Park United Methodist Church, 2300 Oak Drive, Anchorage on Saturday, August 30, 2014 at 1 pm with a reception to follow. In lieu of flowers please, send donations to: Anchor Park United Methodist Church, 2300 Oak Drive, Anchorage, AK 99508 or Habitat for Humanity, 1057 W Fireweed Lane, Anchorage, AK 99508