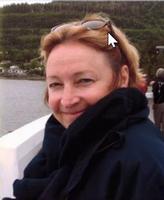 Luann Still Chappell
March 27, 1956 - September 25, 2019
Luann Still Chappell, 63, a native of Cleveland, passed away Wednesday, September 25, 2019 at her home in Gallatin, TN. She is the daughter of long-time Cleveland resident, Jimmy Still and the late Joan Still. Luann was married to Jack Chappell, a retired University of California administrator. She and her husband had moved to a small farm in Gallatin five years ago.
A graduate of Tennessee Tech, Luann was until her recent retirement, a facilities engineer for Alyeska, operator of the TransAlaska Oil Pipeline, headquartered in Anchorage AK. She was a graduate of Cleveland High School and attended Cleveland State Community College. She was a general aviation pilot, having become the youngest person in the state at the time to earn her license at the age of 16.
Luann was an award-winning published screenwriter having received the 2015 Equuis Film Festival Award for her screenplay "Stubborn," the story of an orphaned girl, a rescued mule and their triumphant accent into the world of hunter-jumper competition. At her Gallatin farm, she worked with a local equine rescue organization fostering and caring for abused and abandoned horses and donkeys.
She had been employed by Alyeska for more than 22 years during which time she worked in facilities the length of the 900-mile long pipeline many times stationed at remote sites running from Prudhoe Bay at the extreme northern tip of the United States to the harbor at Valez, AK. She was selected by the company as an engineer for the strategic reconfiguration of the pipeline, a billion dollar project.
Luann was also an accomplished graphic artist, clothing designer, and a follower of NASA and space achievements.
She was preceded in death by her mother, Joan Still; sister, Patricia Reynolds; nephew, Christopher Reynolds; niece, Sarah Reynolds; and by her grandparents, Wallace and Stella Still and Holman and Cecil Lovell.
Survivors include her husband, Jack Chappell of Gallatin; father, Jimmy Still of Cleveland; sisters, Margot Still of Cleveland, and Sandra Bean of Kingwood, TX; aunts and uncles, C. Kenneth Still, Mary Ellen McCoy, Linda Massengale, Johnny Maupin and Wanda Wilkey; nephews, Jason Bean and Sam Reynolds; niece, Lucie Smith; and cousins, Chuck Still, Steve Still, Robin Wintringham, Bobby McCoy, Tim McCoy, Kathy McCoy Davis, Susan McCoy Davidson, Kim Horton, Gary Lemons and Mark Lemons.
A memorial service and celebration of the life of Luann will be held at 6:00 p.m. on Saturday, October 5, 2019 in the chapel of Fike-Randolph & Son Funeral Home with Pastor Mack Streun officiating.
Her family will receive friends from 5:00 – 6:00 p.m. at the funeral home prior to the service.
We invite you to send a message of condolence and view the Chappell family guestbook at www.fikefh.com.
From Fike-Randolph & Sons Funeral Home, Cleveland, TN
(note: there is a video on the bottom of this linked page)
-------------- From Alyeska Communications -------------------------------------------------------------
We are sad to report that one of our retirees, Luanne Chappell, passed away on Wednesday, September 25. Luann brought extensive experience working for TAPS contractors and in the nuclear energy industry when she joined Alyeska in August 1998 as a Facility Engineer assigned to PS09. Over the course of her career, Luann provided engineering expertise to most, if not all, pipeline facilities and worked as a Commissioning Engineer during the SR project. She retired in May 2017. Luann will be greatly missed.
A visitation will be on Saturday, October 5 at 5 p.m., with services at 6 at Fike Funeral Home in Cleveland, Tennessee. Anyone who would like to leave a message of condolence for Luann's family can do so at www.fikefh.com.