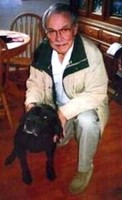 Edward "Ed" J. Kiml, 85, of Penn Yan, N.Y., passed away on Saturday, Jan. 31, 2015, at Soldiers & Sailors Memorial Hospital. Ed was born on Aug. 15, 1929, in Cleveland, Ohio, to the late James and Rose (Kutcher) Kiml.
He served in the U.S. Air Force from 1950-1954 and as an Ohio State Trooper for several years before moving to Alaska, where he worked Security for Alyeska Pipeline Service. After retiring to the Finger Lakes area of New York State, he worked for 10 years at Wegmans of Canandaigua, N.Y. Ed loved photography, biking, scuba diving and traveling.
He is survived by his wife of 30 years, Patricia Harris Kiml; daughters, Winter (Kane) Wolf of Anchorage, Alaska, Kim Kiml of Cordova, Alaska, and Melissa Holcutt of Bloomfield, N.Y.; son, Douglas (Heather) DePriest of Meridian, Idaho; grandchildren, Kelsea (Josh) Horner of Anchorage, Alaska, Margaux Sheehan of Arroyo Grande, Calif., Naomi Morris of Anchorage, Alaska, and Brier DePriest, Hunter DePriest, Kayla DePriest, Bryan DePriest and Brandon DePriest of Meridian, Idaho; great-grandchildren, Hayley and Colin Horner of Anchorage, Alaska; brother, Fred Kiml of Independence, Ohio; nephew, Fredric Vaughn Kiml of Ohio; and niece, Renee Kiml of Santa Rosa, Calif.
At Ed's request, a private graveside service will be held. Memorial donations may be made in Ed's name to the Humane Society of Yates County, 1216 Route 14A, Penn Yan, NY 14527. Family and friends may sign the guest book at Townsend-Wood Funeral Chapel.