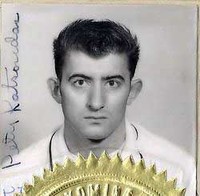 Panagiotis Dimitrios "Pete" Katsoudas died Sept. 1, 1986 at Prudhoe Bay.
Pete was born on March 13, 1940 in Greece. He moved to the United States and became a naturalized citizen in Wyoming in 1962 (see photo). He lived in Alaska for 15 years. He worked for Universal Services Inc. as a cook on the pipeline. (Click to view related newspaper article).
He leaves his brother, George Katsoudas.
Services for Pete Katsoudas, 46, were held at the Holy Transfiguration Greek Orthodox Church with the Rev. Chris Margaritis officiating. Burial was in the Anchorage Memorial Park. Service arrangements by Evergreen Memorial Chapel.
Published in the Anchorage Daily News, September 9, 1986