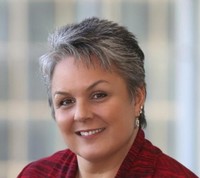 Donelle G. Thompson (1962 - 2015)
Donelle Gene Thompson, 53, passed unexpectedly on Thursday, Oct. 8, 2015, in Anchorage, Alaska. Donelle's infectious laugh and quick smile make heaven a little louder and more fun!
Donelle was born in St. Joseph's Hospital in Fairbanks, Alaska, on Aug. 16, 1962, to Don and Del Pruhs and had three very doting older brothers. Finally, they had the daughter they had been dreaming of, and they named her by blending their names to create hers. Donelle grew up in Fairbanks at a time when everyone knew everyone and no one locked their doors. The friends she made as a child she kept for the rest of her life.
She attended Denali Elementary School, Main Junior High and graduated from Monroe Catholic High School in 1980. She then attended California Polytechnic State University in San Luis Obispo, Calif., and obtained a degree in business in 1985. Donelle obtained a master's degree from Seton Hall University in 2007.
Donelle was loved by many and was passionate about helping others along life's journey. As a life coach, she assisted others in their personal and professional growth. Her creativity and kindness to her friends was often expressed through her knitting. She loved to pick out just the perfect yarn and knit the perfect item for those she loved. Alaska was home, and Donelle loved to give back to her community. She volunteered often for causes dear to her heart. She was a founding member of the 100+ Women Who Care-Anchorage, a women's group dedicated to supporting worthy charities in our community. She also was a founding member of the Anchorage Leadership Services, a women's group dedicated to supporting and mentoring young professional women.
When volunteering, she always made sure people had fun and were involved. Donelle's most enduring love was for her best friend and husband, Ross, and her beloved son, Jacob. Nothing brought her more joy than being a loving wife to Ross and mother to Jacob. Donelle was often seen with her constant companion, Sassie, her toy poodle.
Donelle was preceded in death by her beloved mother, Del Pruhs; and father, Don Pruhs. She is survived by her beloved husband, Ross Thompson; and son, Jacob Thompson; brother, Dana (and Deanna) Pruhs and niece Danner of Anchorage; brother, Danny (and Patti) Pruhs and nephews Palmer and Parker of Prescott, Ariz.; brother, David Pruhs of Fairbanks; brother-in-law, Tommy (Deborah) Thompson and nieces Richelle, Shawna and Kara of New Castle, Ky.; and brother-in-law, Billy (Lee) Thompson of Lexington, Ky.
Friends and family are invited to celebrate her life at a memorial service on Thursday, Oct. 15, 2015, at 4:30 p.m., at Saint Elizabeth Ann Seton Catholic Church, 2901 Huffman Road, Anchorage, AK 99516. A reception following the service will be at Ross and Donelle's home at 2501 Brandy Circle, Anchorage, AK 99516.
Donations, in lieu of flowers, may be made in Donelle's name to the Clare House Women's Shelter, Catholic Social Services, 4110 Spenard Road, Anchorage, AK 99517.
Published in Alaska Dispatch News on Oct 13, 2015