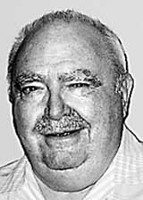 Francois Arriens
Obituary
Fort White, Florida - Francois L. R. Arriens, 81 of Fort White passed away August 12,2009 at Shands Hospital, Gaines ville.
Mr. Arriens was born in Namur, Belgium December 31, 1927. He was a retired manager at Alyeska Pipeline Service Company and the Boeing Company.
He is survived by his children Brenda Arriens, Dominique Perryman, Rene Arriens, Marc Arriens, and Rebecca Kocher; grandchildren Daniel Perryman, Russell Perryman, Ross Arriens and June Arriens.
There will be a private memorial service. Arrangements by Bergan Funeral Home, Naples, FL.
Published in FLORIDA TODAY on Aug. 18, 2009