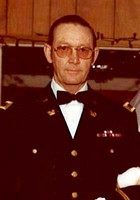 Ernest Lee Collins, Sr.
November 3, 1930 - January 27, 2017
Mr. Collins passed away peacefully Friday morning surrounded by his loving family. He was bon to parents George Dale Collins and Louella Anderson Collins in Mannsville, Oklahoma. Ernest was the eldest of three children; he had two younger sisters, Vivian and Geneva. His parents, his sisters and his granddaughter, Gillian Marie Jenks preceded him in death.
He spent his early years working on the family farm/ranch. He would later roughneck in the oil fields of Oklahoma and Texas. He attended Stephen F. Austin College in Nacogdoches, Texas. Ernest enlisted in the Army in 1952. While home on leave, he met his future bride on a blind double date with a friend. Henrietta Thelma Madellin and Ernest were married in August 1954. They had four children and traveled the United States and Europe with the military. He was a career Army Officer (CW2), Nike Missiles Expert. Since his teens he's dreamed of coming to Alaska. In 1969 he got his wish and the family was stationed at Eielson AFB, Fairbanks, Alaska. In 1975 he was able to do his retirement tour at Fort Richardson, Anchorage, Alaska. He then moved his family to Wasilla. After the Army he became an Instrument Technician for oil companies on the North Slope. He retired from ARCO, and then again from Alyeska/BP.
Ernest loved the outdoors, coffee by the fire, his wife, his children and most especially loved and enjoyed his grandchildren. He was a loyal friend, honest to a fault and a cowboy at heart. He lived by a code of conduct he learned early and by good old cowboy philosophy.
Ernest was dearly loved and admired and will be deeply missed. He is survived by his wife of 62 years, Thelma Collins, his sons, Jaque, Lee (Kim), Stephen (Kellie) Collins, and his daughter, Pollyanna Jenks (Bobby). His ten grandchildren: Brooke (Lamond), Ryan (Sharleen), Patrick (Jeri), Connor, Darcy (Andy), Justin (Aimee) Collins, Ginger (Shane), Amy (Torrey), Katie (Matt), and Molly (Luke) Jenks. And ten wonderful great grandchildren. Arrangements by Janssen Funeral Homes, Wasilla, Alaska.
Published in Frontiersman, February 3, 2017
Published in Alaska Dispatch News, Feburary 5, 2017