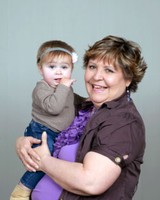 Janet Guerra
October 11, 1958 - June 12, 2017
Lifelong Alaska resident Janet Guerra, 58, passed away on June 12, 2017, at Providence Alaska Medical Center in Anchorage, Alaska, after a courageous battle with pancreatic cancer.
Janet was an employee of the Alyeska Pipeline Service Company. In her spare time she enjoyed kayaking, hiking and being outdoors with her family and friends. Her greatest joy was simply being a grandmother.
Janet is survived by her husband, Carlos Guerra; son, Elias Guerra; daughter, Caleah Jaeger; son-in-law, Cary Jaeger; granddaughter, Leilani Jaeger; mother, Miriam Stedman; sisters, Carol Kepenach and Karin Leary; and brother, Ted Kepenach.
She was preceded in death by her sister, Maryann Bonner.
There will be a funeral service on Sunday, June 25, 2017, at Abbott Loop Community Church, 2626 Abbott Road in Anchorage, beginning at 6 p.m.
Arrangements are with Janssen's Evergreen Memorial Chapel
Published in Alaska Dispatch News on June 21, 2017
http://www.legacy.com/obituaries/adn/obituary.aspx?n=janet-guerra&pid=185861938