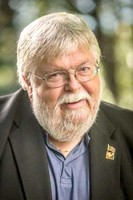 Maynard Tapp
June 6, 1947 - September 12, 2017
Prominent businessman and long-time Alaskan Maynard V. Tapp, 70, passed away September 12 in Anchorage after a short illness.
Maynard was born and raised in Seattle. He attended the University of Washington, and was a member of the UW rowing crew. He graduated with a Bachelor of Arts in Accounting from the University of Puget Sound, Tacoma.
Maynard served in the United States Marine Corps Reserve during the Vietnam Era. Subsequently, in his professional life he was a significant supporter of the Fallen Heroes Project, which recognizes and salutes military sacrifice.
After serving his country, Maynard worked both domestically and internationally as a project control professional in the engineering and construction industry, work that included the trans-Alaska pipeline project during its original construction and throughout its operating life.
In 1985 Maynard founded Hawk Consultants to provide project control and project management services for major oilfield and pipeline projects, and became a noted businessman in the Alaskan oil patch. Through Hawk, he identified, developed, and employed hundreds of qualified professionals who continue to serve in the oil and gas industry.
Maynard served on the boards of The Alaska Support Industry Alliance and the Alaska Chapter of the Project Management Institute. In 2010, he was unanimously elected as Director Emeritus of the Alliance as an expression of their appreciation for his enduring contributions to the organization and the industry.
Maynard was a significant contributor to the University of Alaska, serving on its Engineering, Science and Project Management Department's (ESPM) Advisory Board. In addition, he was a deeply consequential supporter of the University's Alaska Native Science and Engineering Program (ANSEP).
In 2016, the Alaska State Legislature recognized and honored Maynard for his service to the state and its oil and gas industry, and highlighted him as a thoughtful and articulate Alaska business owner and energy industry leader with great passion for his adopted state and its industry and culture.
His company released a statement: "Maynard was a good friend and a caring and ethical business partner, and we will miss him and his wise counsel."
He is survived by his brother Roger of Lynnwood, Washington, and many nieces and nephews.
Memorials may be made to the Michael G. Reagan Fallen Heroes Project, organizations that support breast cancer awareness, an organization of your choice considering those listed above.
A Memorial Gathering is to be held at the Wendy Williamson Auditorium at the University of Alaska on Sunday, October 15, 2017, 3:00 p.m. Updates and a complete obituary can be found at Janssen Funeral Homes Inc.