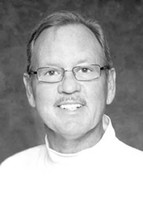 James (Jim) William Bogart III
December 5, 1950 - May 6, 2011
Beloved husband, father, grandfather, son, brother and uncle James (Jim) William Bogart III, 60, died May, 6, 2011, at Mat Su Regional Medical Center.
Jim was born Dec. 5, 1950, in Emory, Ga. In later years, his family began the transition westward calling many towns home along the way. The family ultimately settled in Roseville, Calif. In 1968, Jim graduated from Oakmont High School in Roseville. After that he began attending Sierra Junior College where he majored in architecture.
In December 1969, Jim met and fell in love with his wife of nearly 41 years, Linda Diane. They were later blessed with children Antoinette Reneé and James William Bogart IV.
After working for Southern Pacific Pipeline for many years he got the call to work for the Alyeska Pipeline at the Valdez, Alaska terminal in 1981. He worked for Alyeska until 1999 and then worked at the Drift River Oil Terminal. From 2005 to 2007, he was an operations trainer for the Baku-Tbilisi-Ceyhan Pipeline in Ceyhan, Turkey.
Jim's last, but certainly not least, position was in transportation at the Palmer Senior Center. He met many wonderful people at the center and shared fantastic, and oftentimes humorous, stories of each day's events.
Jim will be forever missed by his wife, Linda; daughter, Antoinette and her husband Jay; son, James (JW); grandchildren, Alexis, Ally and 'Greenhead' Dylan; mother, Beverly Bedient; in-laws, Bernie Karlin and wife Maggie, who loved him like a son, as Jim did both of them; sister, Kathleen and her husband Michael Harless; sister, Mary Frances Bogart; brother, Wayne Bogart and his wife Karen; aunt, Jean Austin; as well as many nieces, nephews, cousins and many forever friends.
At Jim's request, a memorial service will not be held. In lieu of flowers, donations may be made to the Palmer Senior Center, 831 S. Chugach St., Palmer, AK 99645.
Publishined in the Mat-Su Valley Frontiersman on May 13, 2011