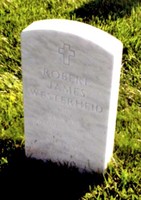 Robert J. Westerheid
February 19, 1922 - February 26, 2004
On February 26, 2004. Born February 19, 1922 in Dayton, Ohio. He joined the Navy and became a Navy flyer in 1944. He remained an active pilot into the 1990's. He graduated from the University of Maryland in 1950 with a degree in Mechanical Engineering. He married Henrietta Dyer Howard on October 5, 1946.
His early career included working as an engineer with Vitro Corporation, then working with General Electric, as a manager and test pilot, then as a senior manager in Houston working on the Apollo program.
In 1975, his family moved to Alaska, where, while with Alyeska Pipeline Service Company, he became Superintendent of the northern and then southern sections of the Alaska Oil Pipeline, and ultimately Superintendent of the Terminal in Valdez. He retired in 1984.
He is survived by his wife, Henrietta and six sons, James Payton and wife, Ellen, Robert Anthony and wife, Marilyn, John Joseph, Michael Howard and wife, Ronda, Richard Thomas and wife, Nancy, Paul Matthew and wife, Kara. There are six grandchildren, Adam, son of James; Kyle and Amanda, son and daughter of Michael; and Tanner, Paige and William, sons and daughter of Richard.
Services will be held on Monday, March 15. The funeral mass will be held at St. Agnes Catholic Church, 1914 N. Randolph Street in Arlington at 10 a.m., followed by burial services at Arlington National Cemetery at 3 p.m..
Published in The Washington Post on Mar. 14, 2004