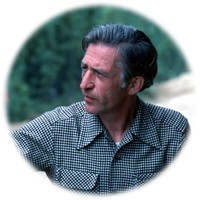 Harold Ray "Hal" Peyton
March 25, 1928 - March 16, 1977
Hal Peyton services today. Funeral services were at 10 a.m. today in Anchorage for Dr. Harold "Hal" Peyton, 48, who died Wednesday. He had lived in Fairbanks for three years.
Peyton was a professor of engineering at the University of Alaska-Fairbanks for three years. At the time of his death he was employed by Atlantic Richfield as a senior staff engineer. He also was a consultant with Alyeska and its predecessor the Trans-Alaska Pipeline System. Dr. Peyton held a variety of engineering positions with Alyeska with emphasis on Arctic problems.
He lived on the North Slope for four years in the late 1950's and early 1960's. He held a doctor of philosophy degree in engineering from the University of Ohio.
He is survived by his wife, Betty of Anchorage-, his parents, Cale and Doris Peyton of Klamath Falls, Ore.; three sons, Paul of Silica, and Jeffrey and Scott of Newburg, Ore.; a daughter, Linda Grady of San Diego, Calif., and two step-children, Mark and Vicki of Anchorage.
The family requests that contributions be made to the Harold Peyton Memorial Scholarship Fund for engineering students at the University of Alaska, Fairbanks
Published in the Fairbanks Daily News-Minor, March, 19 1977
Special thanks to Howard Thomas for sharing the above photo