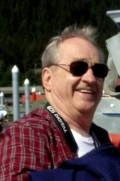 Anchorage resident, Rolland Doubleday Sr. passed away on his birthday on September 14, 2013 at Providence Alaska Medical Center. He was born on September 14, 1940.
Rolland "Dub" Doubleday passed away on his 73rd birthday. Dub grew up in Cody, Wyoming, and after high school enlisted in the Air Force. He went on to become an instructor of electronics at Kiesler AFB. Upon discharge from the AF, Dub was employed by Federal Electric, providing him the opportunity to field-commission TACAN (Tactical Air Navigation) units in such places as Laos, Israel during the "Six-Day War," Libya, and various other venues in the early-to-late '60s. Dub was also involved as a "Star-Tracker" technician on the USNS Huntsville providing communication to the Apollo astronauts during re-entry and splashdown.
In 1968, Dub moved to Alaska. For the next four years he worked as an electrician on the Spark and King Salmon platforms of the Cook Inlet. In 1976, he became involved in the startup effort for the Trans-Alaska Pipeline. He was the instrument supervisor during commissioning of the Field Fuel Gas Unit and the Central Compressor Plant in Prudhoe Bay, Alaska. For the next 25 years, Dub worked as an instrument technician at most every site along the Pipeline from Pump Station 1 to the Valdez Marine Terminal. When the job was tough, Dub got the call. Hardly a Fisher 350 actuator ever escaped his attention.
Dub was also a pilot and earned his instrument and commercial ratings. He was an avid reader and was rarely without a book in hand. He enjoyed watching Red Sox games with his boys, but firmly believed they would lose if he watched them play, and coincidentally, they normally did. He loved to work on his house, and even into his last week of life was devising home improvement projects. He was always excited to work on friends' boilers and any other projects for which they needed help. He loved to tell good jokes as much as he loved to hear them. After 49 years of smoking he quit cold-turkey saying, "I wanted to quit before I got addicted." If you thought of Dub as a friend, he probably was, because he would definitely let you know if you weren't.
Dub is survived by his two sons, Rolland (D2) Doubleday, Jr. and John F. Doubleday; his older brother, Ray Doubleday, and the Love-of-His-Life, Shirley Childress. A private "Celebration of Dub's Life" will be held in the Spring. In lieu of flowers the family requests donations be made to the Disabled Veterans National Foundation.