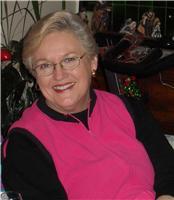 Beverly Ann (Wilson) Ward, a long-time resident of Juneau, Alaska, passed away on November 1, 2013. She was 67. Beverly, the elder of two children, was born in Wichita, Kansas on June 11, 1946, to Gail and Opal Wilson. Her brother Richard was born in 1951. The family resided in Albuquerque, New Mexico, for many years. Her father was a WWII veteran and a baker. Her mother was a stay-at-home mom who contracted tuberculosis when the children were very young. Beverly loved going to the bakery with her dad and helping her mother with her younger brother.
Beverly graduated from high school in Albuquerque and attended the University of New Mexico where she earned a degree in English and Secondary Education. She earned her Masters of Education from Adams State University in Alamosa, Colorado. A teaching job at Ketchikan High School brought her to Alaska in 1968 – for just one year – and she stayed for the rest of her life. She loved teaching. The Kayhi Class of 1973 invited her to keynote their high school reunion this past summer. She wowed them with the wit and wisdom that came easily to Beverly. In 1975, after teaching for seven years, she accepted a position as news media representative for the Alyeska Pipeline Service Company. Her job was to take journalists, film crews and VIP's to construction sites to write stories and film the largest construction project in the world – the transAlaska Pipeline. In that job, she traveled to all parts of Alaska. It was during that time that she met and married Bob Ward. Beverly and Bob were active in many Alaska pursuits – fishing, hunting, traveling the state, and politics. Politics took them to Juneau in 1979 when Bob accepted a position as Commissioner of Transportation for Governor Jay Hammond. Beverly was hired by ARCO Alaska where she worked for 20 years as the government affairs representative in Juneau. Beverly and Bob were married until his death in 1997.
In retirement, Beverly enjoyed traveling with family, friends and for organizations she belonged to, gardening, quilting, walking, entertaining, and volunteering. She served in different capacities in many organizations and on several boards, including Rotary, P.E.O., Catholic Community Services, Juneau Jazz and Classics, Capital City Republican Women, the Glory Hole, and Chapel by the Lake. She was appointed to a special White House Commission on the Status of Women in the Military. Her service to others and her generous spirit up until her death touched many lives. Beverly married Brian Reeve of Mukilteo, Washington, on July 4, 2011 in Juneau. She immediately embraced Brian's family and friends. Beverly and Brian enjoyed boating and fishing, 4-wheeling, and traveling by jet, 5th wheeler, and cruise ship. They enthusiastically hosted visiting friends and family in their Juneau, Seattle, and Yuma homes. Their doors were always open to others, and Beverly was known for her entertaining; she was always organizing parties, holiday dinners, and receptions.
Beverly was preceded in death by her parents Gail and Opal Wilson, and her husband Bob Ward. She is survived by her husband Brian Reeve; brother Richard and Jeannie Wilson of Glendale, Arizona; step-children Ken and Mic Ward of Juneau, Bob and Karen Ward of Umatilla, Oregon, and Karen and Bob Rehfeld of Juneau; eight grand-children – Ryan (Tiara), Keven, Michael (Jess), Natalie, and Richard Ward; Hilary (Adrian Padilla), Mary, and Margaret Rehfeld; and great-granddaughter Caroline Padilla. She is also survived by Brian's children: daughter Cori Carroll, son Shaun Jordan, and five grandchildren.
Services will be held at Chapel by the Lake on Wednesday, November 6, 2013, at 1:30 pm. Beverly will be interred at Alaskan Memorial Park in Juneau, Alaska. The family suggests that donations be made to the University of Alaska Southeast – P.E.O. "G" Scholarships, 11120 Glacier Highway, Juneau, Alaska 99801, or other charity of choice.