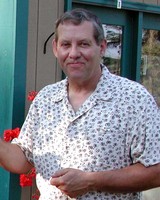 Clifford A. Moore passed away about May 1, 2010.
As a teenager, Cliff won an Oregon state-wide accordion contest in his age group. Cliff graduated from Oregon State University with a degree in Civil Engineering in 1970. After graduation, he then entered the Corps of Engineers training program for new engineers. He traveled from their Portland, Oregon office to work on various projects in the Northwest. For example, he was assigned to work on the construction of the Dworshak Dam out of Lewiston, Idaho where he shared an apartment with Scott McLean, a friend from OSU who had also entered the Corp program upon graduation.
Cliff began working for Alyeska Pipeline Service Co as a contractor about 1975. Later APSC hired him to work for them as a direct employee. At APSC, he worked in various engineering and project management positions.
Cliff was a pilot and had his own airplane which he loved to fly to his cabin on Shulin Lake where his friend David Jensen also a pilot, also had a cabin.
There was a widely attended Ceremony of Life held on May 27, 2010 at the Alaska Aviation Museum, next to the Lake Hood Seaplane Base, in Anchorage, Alaska.
Click on "View Profile" for some additional pictures.
The above information was put together from small bits of information sent me. If you have some information to add, please use Contact Us to reach me. Larry