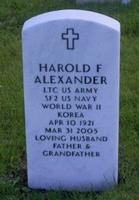 Harold F. "Alex" Alexander
(April 10, 1921 - March 31, 2005)
Longtime Alaskan retired Lt. Col. Harold F. "Alex" Alexander, 83, died March 31, 2005, in Anchorage. Visitation will be from 4-6 p.m. Sunday at Evergreen Memorial Chapel. A funeral will be at noon Monday, with a viewing from 11 a.m.-noon at First Baptist Church. Interment will follow at Fort Richardson National Cemetery. Mr. Alexander was born April 10, 1921, in Macon, Ga.
He met his wife in 1946 while attending Georgia Tech. They married after a short engagement. During World War II, he served in the U.S. Navy and was on loan to the Marines defending islands in the South Pacific. Later, he worked with the Army in the Korean conflict and continued his service, retiring from the Reserves as a lieutenant colonel in 1992. A graduate of the Army's Command General Staff School, he was an instructor in the Army Reserves. He served in the U.S. Army, Navy and Marine Corps. After their marriage, the couple settled in Atlanta and raised their family.
After serving in the Army Corps of Engineers, Mr. Alexander moved to the private sector and was an engineer with Southeastern Pipeline in Atlanta. From Southeastern, he moved to help design, build and operate Dixie Pipeline. His career continued in this industry, taking the family to Alaska in the mid '70s. They lived in Glennallen, where he helped complete the trans-Alaska pipeline system. Once it was operating, the Alexanders moved to Anchorage. He retired in 1992 as superintendent of pipeline operations.
His interests included working with the Anchorage Concert Association as a board member. His primary interest was in the religious arena. He attended seminary in his 60s to further his education. He was active in many churches over the years, including teaching Sunday school for over 41 years. He and his wife, Alice, produced seminars, most notably the "Answers In Genesis" seminar as led by the Rev. Ken Ham.
His family wrote: "Alex was best known for his love of family, his role as 'Grandaddy' and the support he gave his friends. His leadership at Alyeska Pipeline is regarded as 'the good years' due to his management style, guidance and support of his co-workers."
Mr. Alexander is survived by his wife of 58 years, Alice Simmons Alexander; children, A. Aneida Alexander, Harold Alexander Jr., J. Chris Alexander and Dr. Lon Alexander; and nine grandchildren.
LTC Harold Furlow Alexander (1921 - 2005) - Find A Grave Memorial