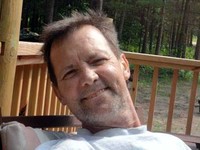 John Parish, of Valdez, Alaska, passed away on February 12, 2014 of prostate cancer. He was born on December 22, 1954.
His hobby passion was playing golf in all seasons and places, including bonsai runs to Anchorage for 72 holes when he was young, summer golf in northern Minnesota throughout the years, and Valdez Full Swing Golf in the winter. He was also glad to be a member of the community with Epiphany Church and the Valdez Elk's Club. The most common thing posted by friends and family on Caringbridge and FaceBook was about John's winning smile, which he kept strong throughout his final days." He worked at the Valdez Marine Terminal for 22 years with Alyeska Pipeline Service Company.
John's family reflected on his life and said that "John was a family man who was loving, caring, generous, with a great sense of humor. He had an easy smile, was good-natured, and rolled with the punches. He didn't dwell on life's concerns, but saw the good in all. He loved spending time with family and friends and was considered a good friend by many.
John is survived by wife, Louise Parish (wife), his daughters, Katharine Parish, Natalie Lawrence David J Lawrence and his granddaughter, Raegan Lawrence.