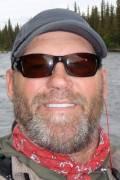 Russell Scott James, 47, passed away in Eagle River, Alaska on March 11, 2014.
Visitation will be held at Janssen's Eagle River Funeral Home, 16421 Brooks Loop Road, Thursday, March 20, 2014 at 11 a.m. with a service to follow at 1 p.m. Scott will be laid to rest at Fort Richardson National Cemetery at 3 p.m.
Scott was born in Tampa, Florida on January 6, 1967. He graduated from Auburn University then went into the United States Marine Corp. In 2008 he moved to Eagle River, Alaska where he worked for the Alyeska Pipeline.
His family wrote, "Scott James. A Recon Marine, a son, a father of three young men, a brother, a nephew, and an uncle. But he is more than any of this. He is a hero to all that met him. Scott had a rare ability to befriend any person he met. He has friends from Alabama all the way to Alaska. Scott was not your average man. To this day we are still hearing about all the crazy things he did. He was the type of man who would point out a mountain peak and say, I am going to climb that.' And he did because he was always a man of his word. He's the type of guy who jumped in an ice cold glacier pond just for fun. But most of all, he was a role model to a huge amount of people. He taught his sons everything they know from hunting, fishing, hiking and how to live off the land. He would want them to keep learning as much as possible and always say you have to think big man', and taught his niece it was OK just to be silly once in a while."
Survivors include his mother, Norma Adger; sister, Shelly Ferrato; uncle, Jimmy Modre; sons, Zachary, Ethan and Joshua James; niece, Melyssa Ferrato; and brother-in-law, David Ferrato.
He was preceded in death by his grandmother, Sue Ann Pitts.
He will be deeply missed by all BUT never forgotten. Rest in Peace until we meet again. Arrangements are with Janssen Funeral Homes.
Published in Anchorage Daily News, from Mar. 19 to Mar. 20, 2014