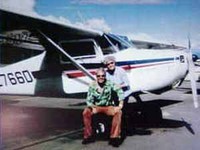 Birth: Sep. 11, 1932 Portland Multnomah County Oregon, USA
Death: Sep. 3, 2000 Anchorage Anchorage Borough Alaska, USA
Longtime Alaskan Rodney P. Kinney Sr., 67, died Sept. 3, 2000, at the Alaska Native Medical Center in Anchorage, of complications from a stroke. He was surrounded by his family. Mr. Kinney was born Sept. 11, 1932, in Portland, Oregon. He had lived in Anchorage and Eagle River since 1970. Rod was a Korean War veteran. After serving in the US Navy Mobile Construction Battalion building port facilities in Subic Bay, PI, he graduated from the University of California at San Jose in 1961 with a bachelor's degree in civil engineering. He also studied soil mechanics at the University of California in Berkley and Arctic Studies at the University of Alaska--Anchorage. Rod also held an honorary doctorate from Rigas Aviacijas University in Latvia.
After graduating from San Jose, one of Rod's earliest projects was the design of the hospital building foundation at Lemoore Naval Air Station in California. While continuing to work for Woodward Clyde Consultants, Rod and his wife, Nadine, moved their family to Alaska in 1970 so Rod could get closer to his Alaskan roots and continue design work on the trans-Alaskan pipeline. He stayed with WWC during the early Design and Construction Phases of Trans Alaska Pipeline System (TAPS). He successfully completed such projects as special design concepts for Thompson Pass, Keystone Canyon, and Dietrich Pass of the TAPS pipeline route. He was also well-known for traveling the entire TAPS route via cross-country skis and snowshoes. After completion of the TAPS pipeline, Rod joined Alyeska Pipeline Service Company as an Operations Sr. Civil Engineer. After Alyeska, Rod worked for Municipality of Anchorage's AWWU. In 1980, he started his own engineering company, Rodney P. Kinney Associates.
Mr. Kinney enjoyed violin restoration and woodworking, writing poetry and liberal arts and goldsmithing. His biggest passion was flying his own planes for 25 years. Most of his landings were successful. One of his favorite accomplishments was his participation in the 1991 ''Friendship Flight'' from Nome to Russia. He sought out his Yupik Eskimo heritage and traveled throughout rural Alaska. Rod was hardworking, artistic and independent with a very giving and generous nature. Mr. Kinney is survived by his children and their spouses, Laurie and Rob Kron, Wanda and Greg Holzer, Chris and Sue Kinney, Rodney Jr. and Dawn Kinney, and Clark and Patty Kinney; 15 grandchildren; sister, Dolores Neumann of Sacramento, California; and many close friends and colleagues. He was preceded in death by his father and mother, Paul and Anna (Moon) Kinney. Cremation and a private service were held. His ashes will be ''returned to the earth'' by his sons.
Donations may be made to the Rodney P. Kinney Sr. Memorial Scholarship Trust Fund, National Bank of Alaska, account 2102005380, to benefit Alaska Native university students. Arrangements by Evergreen Memorial Chapel. Family links: Parents: Paul Sylvester Kinney (1890 - 1975) Anna Henrietta Moon Kinney (1905 - 1997)
Burial: Cremated, Ashes given to family or friend. Specifically: His ashes were '"returned to earth" by his sons.