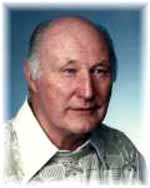 Roy Melvin Fowler, 94, passed away at his daughter's home in Suncrest, Washington, on December 26, 2012. He was born March 8, 1918 in Columbia, Missouri to Iva P. and Roy M. Fowler. The family moved to Moberly, Missouri in 1932 where he attended school. At age 18 he signed with the St. Louis Cardinal Organization to play professional baseball. He played pro-ball until 1941 when he was drafted into the Army and served 4 years during World War II. During this time he met the love of his life, Alma Combs and they were married on August 26th, 1943. They had two children: Karen Freeman (Suncrest, WA) and Michael Fowler, (Richland, WA).
He and his wife settled in Richland, Washington after the war, where he worked on the Hanford Project as a welder. During this time he was active in Youth baseball and managed teams for 9 years. The rest of his spare time was spent hunting and fishing.
In 1974 he was transferred by Arco to Alaska as a welding engineer to work on the building of the Alaska pipeline. He retired from there in 1981 and built a log home in Cooper Landing, Alaska on the Kenai Lake. Needless to say with all the hunting and fishing he found paradise in Alaska.
He is survived by his wife, Alma of 69 years; his 2 children, 5 grandchildren: Kelly LaRock-Reed, Brad LaRock, Paul Fowler, Kyle Fowler, and Megan Fowler; 4 great grandchildren: Alecia Reed, Dana Reed, Clara LaRock and Axel LaRock; his sister, Rebecca Flaherty-Doerge; niece, Kathleen Burt, 1 great niece, Erin Burt and 1 great nephew, Casey Burt.
A Celebration of Life will be held on Saturday, August 3, 2013 at the Community Club in Cooper Landing.