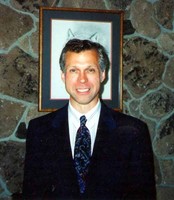 Lifelong Alaska Charles "Chuck" M. Lee Sr., 49 died of brain cancer Oct. 27 1995, at Providence Alaska Medical Center with his wife as his side.
A memorial service will be held at 2 p.m. Thursday at Evergreen Memorial Chapel, downtow, followed by a burial with full military honors at Angelus Memorial Park. The Rev. Mary Koch of First Congregational Church will officiate. Pallbearers will be Charles M. Lee Jr., Jacob Lee, Carl Bahn, Jim Griffith, Gregg Mottet and Mike Prevost. Honorary pallbearers will be Alyeska Pipeline Service Co. Pump Station 10 personnel.
Mr. Lee was born Dec. 14, 1945, in Kodiak, where he lived 14 years. His family then moved to Anchorage. He graduated from East High School in 1964, attended the University of Alaska Fairbanks, and graduated from Northrup Institute of Technology in California.
Mr. Lee served in the U.S. Navy during the Vietnam conflict. He was employed at Alyeska Pipeline Service Co. Pump Station 10 for the past 15 years.
He was a member of the Aircraft Owners and Pilots Association, Veterans of Foreign Wars and American Legion. A licensed pilot, one of his greatest joys in life was flying. He loving biking, skiing, fishing and traveling with his wife.
His family said, "He was a precious, good, kind, and gentle man who loved and cherished his family and friends. He had a wonderful sense of humor and radiated happinesss with his smile and cheerful attitude. He will be sadly missed by his family and friends.
Mr. Lee is survived by his wife. Carol of Anchorage, daughter Barbara of California, son, Charles Jr., stepsons, Billy and Carl Couillette, mother, Janet Lee, all of Anchorage; brother, Mark Lee of Wasilla, sisters and borthers-in-law, Jack and Betsy Scott of Colorado, William and Cynthia Cook of Washington, and Vicki King of South Carolina; uncles, George, Harold, and Ed Naughton, of Kodiak, aunts, Jane Foster of Maryland, Clarisse Duley of California, and Lucille Sanford of Florida; father and mother-in-law, Howard and Betty McElrath of Anchorage, and many nephews and nieces. He was preceded in death by his father, Morris. Memorials may be sent to First Congregation Church, 2620 E. Northern Lights Blvd, Anchorage 99508