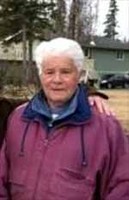 Wasilla resident John James Kelly Sr. 85 passed away of natural causes, January 19, 2013 at Providence hospital.
A Catholic Mass will be held on Friday February 15, 2013 at 11am at Sacred Heart Catholic church Wasilla, Alaska on Bogard road.
Mr Kelly was born May 21, 1927 in Patterson New Jersey to Thomas and Elizabeth Kelly.
John served in the US Navy during World War ll and continued his military service with the US Coast Guard traveling throughout the state teaching boating safety retiring after 26 years of service in Alaska.
He later went on to work for Alyeska Pipeline Co. for 10 yrs.
His retirement was spent in Wasilla, Alaska enjoying the things he loved to do Celestial navigation, fishing, biking and his daily walks.
His family was very important and he enjoyed, loved and cherished them all to the end. He will be greatly missed and loved by his family and friends.
Mr. Kelly was preceded in death by his wife Anna M. Kelly they where married for 60 beautiful years and cherished all of them with her.
Survivors include son John J. Kelly Jr. (Diane) of Kailua Kona, HI; son Thomas F. Kelly (Doreen) of Anchorage AK; daughter Deborah A. Pruit (Randall) of Antlers, OK; brothers Thomas Kelly, Charlie Kelly, Joseph Kelly, Bobby Kelly all of New Jersey; sister Maryann Kelly of New Jersey, James Kelly (Patricia) of Solvang CA; grandchildren Jessica Smirnoff (Alex), Thomas Kelly (Lauren), Jennifer Kelly and John Kelly all of Anchorage AK;
Sean Kelly and Carrie Madriaga (Brock) of Kailua Kona, HI and Kristina Kelly of Santa Barbara CA; great grandchildren Ian and Jade Kelly, Alyssa and Bryce Madriaga of Kailua Kona, HI; Raquel and Max Pruit of Antlers, OK; Thomas and Cara Kelly of Anchorage AK; as well as many nieces and nephews.
Donations in his memory may be made to Sacred Heart Catholic church Wasilla.
Interment will take place in the summer at the National Cemetery at Fort Richardson next to his beloved wife Anna. Published in adn.com from February 13 to February 15, 2013
Burial: Fort Richardson National Cemetery, Fort Richardson, Anchorage Borough, Alaska, USA.
Published in Alaska Dispatch News Feb 13 to Feb 15, 2013