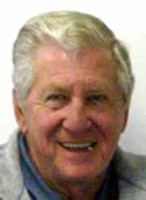 Birth: March 16, 1937, Sweet Lake, La
Death: August 9, 2009, Grand Lake, La.
Earl James Beard, 72, of Grand Lake, La., died Sunday, Aug. 9, 2009, following a brief battle with lung cancer.
Earl was born and raised in Sweet Lake, La., and was a graduate of Grand Lake High School. He served in the Army.
Earl spent his working life in the oil industry, having retired as a supervisor after 35 years of service with Alyeska Pipeline Service Co. Upon his retirement, Earl returned to his hometown of Grand Lake after 37 years in Alaska.
During his younger years, Earl was an avid outdoorsman enjoying hunting and fishing. He loved Cajun French music and dancing and was a member of the Cajun French Music Association. He also enjoyed working in his yard and playing cards.
He will be most remembered for his sense of humor, his unforgettable laugh and his great smile.
He was a member of St. Mary of the Lake Catholic Church. He leaves to honor his memory his loving wife, Beverly Mouton Beard of Grand Lake; his son, Earl J. Beard II of Fairbanks; his daughter, Kymberlee Lanorm Burgess of Alexandria, Va.; grandson, Sean Cassidy Burgess of Alexandria; stepsons and their spouses, Curt and K.J. Smith, Brian "Boo" and Rhonda Smith and Craig and Sonya Smith, all of Lake Charles. La.; stepgrandchildren, Mindi Queenan of Lake Charles, Candyce Brasseux and husband Barrett and Kati, Stephen and Kaleb Smith, all of Lake Charles; two stepgreat-grandchildren, Brynn and Audrey Brasseux; sisters and brothers-in-law, Joyce and Clifton Webster of Vinton, La., and Linda and Edward McGenity of Moss Bluff, La.; and numerous nieces and nephews. He also leaves behind many friends across Alaska.
He was preceded in death by his parents, Morris Beard and Elda Beard Duhon; and a brother, Ray Allen Beard.
Please join us for a celebration of life for Earl and share your memories on Saturday, Sept. 12, 2 p.m. to 5 at the Badger Den.