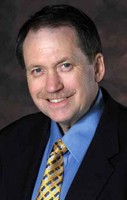 Anchorage resident Alan B. Christopherson, 55, died Feb. 1, 2008, at Providence Alaska Medical Center. A celebration of life will be at 4 p.m. Friday in the University of Alaska Anchorage Fine Arts Building auditorium.
Mr. Christopherson was an accomplished civil engineer in Alaska and took pride in a long design career that centered largely on North Slope oil-field development but also reached into the Russian Far East. He contributed to many other prominent development projects in the state, among them the Alaska SeaLife Center, the Kuparuk River submersible bridge, the Whittier access tunnel, Alyeska Pipeline Service Co.'s spill response facility in Valdez, and essential dock projects in numerous remote areas. He was especially proud of the St. George harbor project and the lasting bond he formed with the people of the island.
Born in Seattle on May 5, 1952, Alan earned a bachelor's degree in civil engineering from the University of Washington and a master's degree in civil engineering from the University of Alaska Anchorage. He was a shareholder and officer of PND Engineers Inc. At the time of his death, he was treasurer for the corporation.
Alan came to Alaska in 1975 to begin his engineering career at Alyeska Pipeline Service Co. He subsequently worked for R&M Consultants before joining PND in 1981. He excelled in the areas of planning, design, project management and construction of marine, port and land structures in Arctic and subarctic regions. Alan held professional engineering licenses in Alaska, Alabama, New Jersey, New York, Oregon, Pennsylvania, Texas, Virginia and Washington.
Mr. Christopherson earned many prestigious awards for his work, both locally and nationally. In 2003, he was recognized as Alaska's Engineer of the Year. In 2007, Alan was designated a Fellow by the American Society of Civil Engineers, one of the most esteemed honors that civil engineers can receive from peers. He joined an elite group with just 19 other Alaskans who shared this distinction. He considered his most notable achievement to be the development of specialized driven pile foundations for Arctic and subarctic conditions. Alan strongly felt that engineering was a team event and acknowledged that many of the efforts he is credited with were supported by his staff and partners.
Throughout his career, Alan strived to improve the stature of engineers in the community. His contributions included active roles within several engineering societies, publication of numerous technical papers and articles, and presentations to student and professional organizations. In 2002. he was one of the engineers interviewed for the "Bridging the Bering Strait" episode of the Discovery Channel's "Extreme Engineering" series.
Mr. Christopherson was an active contributor to arts and education organizations, including the 1 Percent for Art committees for the Wendler Middle School renovation and new Anchorage Fire Station No. 14. He also served as director of the Architects and Engineers Insurance Co., commissioner and deputy chairman for the Municipality of Anchorage Urban Design Committee, director of Gunderboom Inc., and chairman of the board of directors for Chugach Electric Association.
Mr. Christopherson is survived by his wife, Mary; children, Andrew and Ashley; mother, Nadine Christopherson; and siblings, Art and Anne Christopherson. He was preceded in death by his father, Bert Christopherson.
In lieu of flowers, memorial contributions may be made to the Alan B. Christopherson Civil Engineering Scholarship Fund. Address these to UAA, 3211 Providence Drive, Suite 236, Anchorage 99508