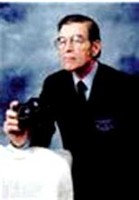 Longtime Fairbanks resident George Steck Jr., 84, passed away in Fairbanks on April 1, 2011. George was born Oct. 23, 1926, in Chicago.
After high school George served in the Army and Navy. He first made Alaska his home in 1957. George enjoyed traveling and spent more than 40 years photographing the city of Fairbanks.
George was proud of being a Mason. He served as master of the Tanana Lodge 162 F. & A.M. in 1976, and served as chaplain of Tanana Lodge 3 from 2001 until his passing. Illustrious Brother George was a member of the Fairbanks Valley of the Scottish Rite and was coroneted a 33rd Degree Scottish Rite Mason on Dec. 4, 1999. Noble George also was a member of the Farthest North Shrine Club and Al-Aska Temple of the Shrine. Worshipful Brother George was a member of the Midnight Sun Chapter 6 Order of the Eastern Star and later served as its worthy patron.
He was preceded in death by his wife of 27 years, Nancy LaFevere.
George is survived by his sister, Janette Taft of Hazel Crest, Ill.; nieces, Julie Curran of Flossmoor, Ill., Carol Taft of Portland, Ore., Barbara Alavarez of San Diego, Diane Lohr of Portland and Sandy Elliot of Mount Prospect, Ill.
"Our beloved Uncle George will surely be missed."
A memorial service will be held at 3 p.m. Saturday, May 14, at the Masonic Temple-Tanana Lodge 3, 402 11th Ave., Fairbanks. Following the service, friends and family may gather at McCafferty's Coffee House, 408 Cushman St.
Memorial donations may be made to Fairbanks Rescue Mission, P.O. Box 73250, Fairbanks, AK 99707. Arrangements were entrusted to Fairbanks Funeral Home & Crematory.