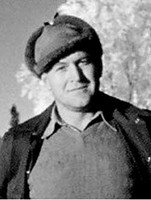 Albert R. Wendt, 91, died April 5, 2012, in Wasilla due to heart failure.
He was born Oct. 6, 1920, in Germany to Reinholdt and Amalia (Handschuck) Wendt. His family emigrated from Germany to the Midwest when he was 9 years old
The family has no services planned.
Albert served in World War II and then was stationed at Ladd Air Force Base in Fairbanks in 1951, where he and his wife decided to stay after he got out of the military. He was also a general contractor throughout the United States and retired from Alyeska Pipeline. He was strong in his faith and was a born-again Christian.
Albert's love for flying, hunting and fishing made him a perfect fit for the Alaska environment.
Surviving are his wife of almost 71 years, Jeanne, of Wasilla; son, Monte Wendt of Fairbanks; son and daughter-in-law, Pat and Alycia Wendt of Anchorage; daughter and son-in-law, Colleen and Bob Dettmer of Forest Lake, Minn.; daughter and son-in-law, Bev and Brad Vadner of Wasilla; and nine grandchildren.
Preceding him in death were his parents and son, Ron Wendt of Wasilla.
Albert will be greatly missed by his family. Alaskan Heritage Memorial Chapel and Crematory of Wasilla cared for the family.