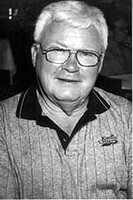 Roland Darwin Wilkinson. 86, went to be with his Lord and Savior on March 14, 2012. He was born on June 13, 1925 to Benjamin and Rose (Gappa) Wilkinson. He proudly served in the U.S. Navy aboard the USS Franklin during World War II.
He married Eleanor (Hunt) Wilkinson on Aug. 28, 1948. Before retiring in 1990 and relocating to Stillwater, he worked as Director of Oil Movement at Alyeska Pipeline Company in Anchorage, Alaska.
He relished his time with his family, his dogs, enjoyed golf, and looked forward to his daily breakfast outings to Mom's Place.
Roland Wilkinson was a friend to all with whom he came into contact. To be in his presence was truly a gift. He was the joy of this family and will be greatly missed by all.
He was preceded in death by his parents and only sister, Rose Loree Summers. He is survived by his beloved wife of 63 years, Eleanor, as well as his sons and their spouses; John and Mary Wilkinson of Midland, Texas, Ron and Ann Wilkinson of Tulsa, Okla., and Tony and Missy Wilkinson of Stillwater, Okla.; grandchildren Jeff, Brian, Mark, Matt, Rebekah, Andy, Katy, Karsten and Kaleigh and many great grandchildren. He also leaves behind precious friends that were as family to him; Terry and Shelia Tharpe and Steve and Cheryl Stone, both of Stillwater, Okla. The family is grateful to all who cared for him, but especially for Dr. Cara Pence who held a special place in his heart.
Services were held at First Presbyterian Church, Stillwater, Okla., on Friday, March 16, 2012 at 2:00 in the afternoon with the Reverend Gordon Edwards presiding.
Memorial contributions can be made to Stillwater First Presbyterian Church, 524 S. Duncan, Stillwater, OK, 74074.