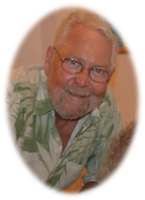 Rex Kay Brown, 65 of Mammoth Cave, KY passed away Tuesday, August 12, 2014 at Hospice of Southern Kentucky in Bowling Green, KY. Rex was born on July 24, 1949 in Cincinnati, OH, a son of Lyle K. Brown (born in Hartford, IL in 1918) and Dorothe Harmer Brown. Rex was the grandson of the late Andrew and Lillian Opal Boren Brown of Pearl, IL.
Rex had worked as surveyor and pipeline manager for Alyeska Pipeline Service Company. He was a "Life Member" and "Past Master" of Masonic Lodge #4 in Valdez, Alaska. He enjoyed boating, fishing, and flower gardening. He was the community coordinator for United Way in Valdez for many years.
Rex is survived by his mother, Dorothe Brown of Bowling Green, KY and a sister, Linda Brown of Mammoth Cave, KY. He was preceded in death by his father in 2009.
Rex chose to be laid to rest with his grandparents, Andrew and Opal Brown in Greenpond Cemetery near Pearl. Graveside services were held on Friday, August 15, 2014 at the Greenpond Cemetery with Bro. Jerry Edison officiating. Masonic rites were accorded by Pittsfield Masonic Lodge #790 A.F. & A.M. prior to interment at the Niebur Funeral Home in Pittsfield.
The Niebur Funeral Home in Pittsfield was entrusted with the service.