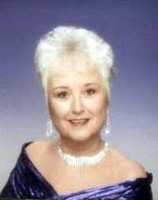 Whiteside, Mary Lou (Byland)
September 16, 1934 - September 29, 2014
Peacefully passed away on September 29th, 2014 at home with her family by her side. She was born on September 16th, 1934 in Roseville, Illinois. Mary Lou was employed at TRW Norton Air Force base and Alyeska Pipeline during her work career. She was an avid giver to many charities throughout her life.
She is survived by her daughters, Sherry Marie Coffey, Madolyn Marie and son-in-law Gary Freburger, Carolyn Joan and son-in-law Tom Piaskowski, and her son Rick Whiteside. Many grandchildren, great grandchildren, nieces, nephews, and close friends.
Mary Lou will be greatly missed by all who loved her. She will live in all our hearts forever! We will see her again in Paradise! Private viewing will be held on Saturday, October 4th, 2014 from 9:30 A.M. to 10:30 A.M. for her children only. Service and burial to commence at 10:30 A.M. to 11:30 A.M. at Phoenix Memorial Park and Mortuary a Dignity provider 200 W. Beardsley Rd Phoenix, Arizona 85027.
Please visit phoenixmemorialmortuary.com to leave written or audio condolences for Mary Lou's family.