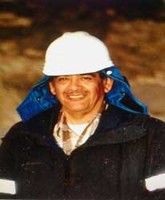 John was born May 25, 1937 and died in Kona Hawaii, November 8, 2007. He served in the Air force and retired as an E7 Master Sargent. He was an airplane mechanic and Quality Control inspector at Elmendorf. His hobbies included hunting, fishing and classic chevy restoration. He was loved and respected by many. He always had a practical approach to both mechanical and process problems.
He left behind his wife Barbara of 50 years, his son Anthony who resides in Arizona with Barbara. His son Charlie who resides in Hawaii and the pride and joy of his life, his granddaughter Leahi.
He started with Alyeska in 1976 worked as a Technician for some years before becoming a Mechanical Maintenance Supervisor. He worked at the Terminal for about 12 years before moving up the line to become a Pipeline Maintenance and Civil Coordinator around 1987 when he built a house in Hawaii and began commuting. He retired about 2002 and lived full time in Hawaii.
He had a great sense of humor and looked at all jobs as a "piece of cake or a 5 minute job..."