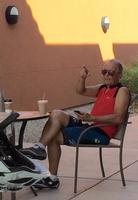 Timothy Corbett Egley
1947 - 2018
We are sad to report that Tim Egley, Alyeska retiree and current contract employee, passed away last Friday. Tim was working at the Poker Flat Research Range in Chatanika with Joel Lindsey in 1977 when he got a call to come work for Alyeska. He started as Maintenance Supervisor at PS05 and then a few years later became the Maintenance Supervisor at PS08. When they established a SCADA group for the pipeline, he became the supervisor opposite Morgan Henrie. He remained in that position until his retirement in October 2006.
Tim continued working on special TAPS projects every summer after retirement, including removing communication systems from ramped down stations and installing the new 800 watt Ormats. He went to work with Chugach Alaska Services in January 2015 and continued with them until his death.
Tim was a Vietnam veteran with the U.S. Marine Corps. He was a pilot and instructor. When he wasn't working for Alyeska he remodeled and sold homes. He rode his bicycle daily and was always had a smile on his face. Tim believed if it was worth doing, it was worth doing right.
A Celebration of Life will be held on Friday, October 26, at 9786 E. Sleepy Hollow Trail in Gold Canyon, AZ. Condolences can be sent to Judy Egley at 10400 E. Breathless Drive, Gold Canyon, AZ 85118.
From Alyeska Communications, October 23, 2018