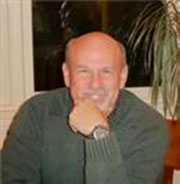 Gerald 'Jerry' Edwin Hubbard 1951-2015 Gerald 'Jerry' Edwin Hubbard, 63, most recently of Houston Texas, formerly of Tulsa, OK and Alaska, passed away at home Thursday January 1, 2015. Jerry was born August 13, 1951 in Long Beach, California to parents Charles and Elinor Hubbard.
Jerry is survived by his wife of 42 years, Retha Newton Hubbard; daughters, Jamie Hubbard Kimberlin, Sarah Kautzman and husband Cameron; his mother; granddaughters, Ella Kimberlin and Mary Caroline Kautzman; siblings Greg, Lee Ann Shaffer and Merry Grisak, their spouses, and many other cherished loved ones.
A graduate of the University of Alaska Fairbanks, Jerry lived life passionately every day. He devoured books, loved cooking for friends, exploring nature and foreign cultures, discussing world politics over the finest scotch, and spending time with his beloved girls. Jerry traveled extensively during his highly regarded career in the oil and gas industry, most recently as President and CEO of Energistics. His family, many friends, and colleagues will miss his keen intelligence, wit, kindness, sensibility, empathy, and that ever-present twinkle in his eye.
A Memorial service celebrating Jerry's life will be held Friday, January 9, 2015 at 11:00 AM at Dettling Funeral Home, 14094 Memorial Dr., Houston, TX 77079. Memorials in Jerry's name can be made to the American Cancer Society at www.cancer.org or 800-227-2345. Visit www.DettlingFuneral.com to leave online tributes.
Published in Houston-Chronical on Jan 7, 2015