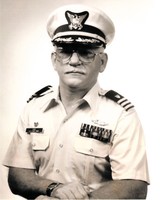 A memorial service to celebrate the life of Rick Frye, 69, of Coos Bay, Ore., will be held at 1 p.m. on Saturday, Jan. 24, 2015, at the Allegany Community Center. Private cremation rites were held at Ocean View Memorial Gardens Crematory in Coos Bay. Rick was born on May 9, 1945, in Durham, N.C., to Richard and Leana Frye. He died on Jan. 2, 2015, in Coos Bay.
Rick grew up in Wake Forest, N.C. He was a graduate of Carolina Military Academy in Maxton, N.C. Rick joined the United States Coast Guard in 1965. He had a distinguished career for 26 years. He retired as a Commander in 1991.
Rick then moved to Valdez, Alaska, and went to work for Alyeska Pipeline Service Company and retired in 2011, after 20 years.
Rick is survived by his wife of 48 years, Karen Gustafson Frye of Coos Bay, Ore.; daughter, Robin Frye of Douglas, Mass.; daughter, Melissa Wood of Coos Bay, Ore.; and son, Richard Frye III and his wife, Latosha of Anchorage, Alaska. He is also survived by four grandchildren, Kara Wood and Zayne Wood, both of Coos Bay, Ore., Allysun Frye of Anchorage and Alexis Fry of Douglas, Mass.
The family suggests, that in lieu of flowers, Contributions be made to Allegany Community Church, 66163 Church Rd., Coos Bay, OR 97420 or Allegany Community Center, 10361 Coos River Highway 241, Coos Bay, OR 97420. Arrangements are pending with Myrtle Grove Funeral Service-Bay Area, 541-269-2851
Published in Alaska Dispatch News on January 10, 2015