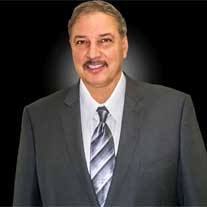 Dennis Marascola
October 9, 1949 - October 29, 2016
Long time Alaska resident Dennis Guy Marascola, 67, passed away on Oct. 29, 2016, at his home in Anchorage, Alaska.

A memorial service will be held on Friday, Nov. 4, 2016, at Our Lady of Guadalupe Cathedral, located at 3900 Wisconsin St., Anchorage, AK 99519, at 12:30 p.m.; all are welcome.
Dennis was born on Oct. 9, 1949, in Pueblo, Colo., where he spent his early years. Dennis graduated from Pueblo County High School in 1967, and earned an AS in Electronics Technology from University of Southern Colorado in 1969. Dennis moved to Alaska in 1977, where he started a lifelong career working for various oil and oilfield service companies as an Instrumentation Technician. After close to a 40-year tenure on Alaska's North Slope, Dennis planned to retire from Alyeska Pipeline Service Company in 2017.

Riding on his motorcycles, Dennis loved to feel the wind in his face anywhere the road would take him. On his time off of work, Dennis loved spending afternoons at the Captain Cook Athletic Club, spending quality time over coffee with close friends and sailing the open waters -specifically the parts around Seward's Resurrection Bay. Dennis was a former private pilot, and his most recent passion was to build and fly remote control drones.
Dennis is preceded in death by his father, Guy Marascola. He is survived by his wife, Irina; his mother, Mary; and his son, Evan; his brother, Robert and wife Cindy; brother, David and wife Michelle; brother, Mark; stepdaughters, Tatiana and Alla; his three grandchildren; and his numerous nieces and nephews.
Dennis was a kind, loving and selfless man who would give to anyone in need, without hesitation or reservation. He will be sorely missed by all who had the pleasure of knowing him.
Pallbearers will be: Douglas Bonito, Frederick Hahn, Evan Nickel, Mark Marascola, Bobby Marascola and Bob Hurly, and Honorary Pallbearer, Kip Absher. - See more at: Kehl's Legacy Funeral Home.
Funeral services will be held on Friday November 4th, 2016
At Our Lady of Guadalupe Cathedral
3900 Wisconsin St.
Anchorage, AK 99517
Visitation will begin at 12:00
The service will begin at 13:00
A reception will follow in the Parish Hall (Guadalupe lounge)
All are welcome to attend, feel free to bring food or beverages to the reception hall
Published in Alaska Dispatch News on Nov. 3, 2016