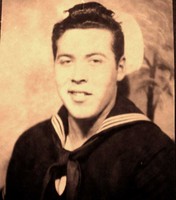 Sylvan was the youngest of five children born to Cleveland and Sylvia Irwin on September 23, 1930 in San Francisco, CA. His mom, Sylvia Irwin, died of complications following his birth when he was two months old.
Sylvan was sent to live with his maternal grandmother Mary O'Lague Frantz until he was nine years old.
Sylvan joined the Navy from 1947-1952 and was stationed in Korea, Japan, and Hawaii. He served on the USS Passumpsic.
In the 1960's he was a milkman for Foremost Dairies in California. In 1963 my parents owned a deli called the Ravioli House in San Mateo, CA.
In 1975 Sylvan went up to Alaska to work as a cook for the workers on the Alaskan Pipeline. He was stationed at several camps and lived there for fourteen months. (Click to view related picture and newspaper article)
In 1977 the family moved to Las Vegas and he was a chef at the MGM Grand Hotel. He also catered various functions through his private catering business that he started with he co-worker.
He passed away on April 18, 1988 in Las Vegas, NV and was cremated.
Information from his daughter, Justina Irwin