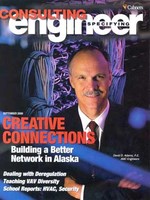 David D. Adams was a co-founder and principal electrical engineer at AMC Engineers in Anchorage, Alaska. He was born February 3, 1952 in Olympia Washington and grew up in Petersburg, Alaska. A graduate of Petersburg High School, he attended the University of Alaska Fairbanks before transferring to Stanford University where he earned a bachelor's degree in electrical engineering with honors and a master's degree in electrical engineering in 1975. He was a registered professional engineer in Alaska and Washington and held the "LC" Lighting Certification credential from the National Council on Qualifications for the Lighting Professions.
An Anchorage resident since graduation, Dave worked for private engineering firms, including an assignment at Alyeska Pipeline Service Co. He formed a sole proprietorship in 1981 that merged that same year into Adams, Morgenthaler and Company Inc., now known as AMC Engineers. He was an expert in electrical systems design specializing in the specification of complex data, control and telecommunication networks. Dave brought enduring campuswide telecom and control systems to the Anchorage School District, UAA, UAS, the State of Alaska Department of Administration and the Seattle School District. His projects were numerous ranging from Mears Junior High and the Nesbett State Courthouse to the new Ted Stevens Anchorage International Airport C Concourse.
Adams was an active advocate for the engineering profession in legislative and local government policy-making and was involved in many professional society activities. He was involved in several nonprofit boards and served on the executive committees for Alaska Public Telecommunications Inc. and Green Star. He was also a member of the Anchorage Fish and Game advisory committee and the Green Star board.
As founder and Principal Electrical Engineer for AMC Engineers, Dave Adams established a standard of design and innovative excellence that clearly set the pace for engineering in Alaska and the nation. His work was published nationally on several occasions, and he was featured on the cover of Consulting Specifying Engineer Magazine in recognition both of his outstanding design of telecommunications infrastructure at the Atwood Building, and his continuing and growing leadership at the national level. In 2003, the year before his death, he was recognized by the Alaska Engineering Society as Alaska's National Engineers Week "2002 Engineer of the Year". Dave Adams was tragically killed in a traffic accident in Missouri on June 30, 2004 while escorting his son Drex and the Alaskan youth shotgun team to an NRA "sporting clays" shooting competition. The night before, he had just celebrated the grand opening of the new ANC C-Concourse, one of his many successes. He is survived by his wife, Jeannie, their children Emily, Bonnie and Drex and many friends.