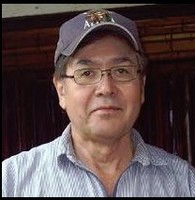 Elmer Virgil Marshall, honored son, beloved father, treasured sibling, uncle, and grandfather, was born May 23, 1948 in Chitina, Alaska and went home to heaven on June 7, 2015. He was the second of four children born to Mae Elizabeth Goodlataw Marshall and Robert Marshall.
The family moved to Lower Tonsina when Elmer was a toddler. An active child, he was often on the move across the quarter mile between his parent's house and his grandfather's place to eat hard sugar and drink tea with his Grandpa Joe. His sisters, Lucille, Judy, and Norma remembered his ornery pranks followed by a contagious laugh. High-spirited with a glint in his eye, his aunt Etta said that his job was teasing his three sisters, and his hobby was practical joking, but he was a respectful and helpful boy.
The family moved from Lower Tonsina to Tazlina in 1957. The log cabin property next to the Tazlina River provided a base for Elmer's fishing, hunting, and trapping adventures. At age 9, Elmer snared a black bear, and a secretly proud but startled Robert had to finish it off for him. He fished for cod, salmon or anything that would bite in the river adjacent the house. He learned to cook and clean and to be self-sufficient from his doting mother, Mae. His father worked for the State of Alaska Highway Department, requiring many days away on the job, but when Robert was home, he taught his son to handle firearms, snares, net, and pole. He hunted small game on his own, buoyed by stories told by his father's sisters, Elmer strove to duplicate his father's ability to provide in the old Ahtna way, and this became a lifelong pursuit.
Elmer attended Glennallen High School and began to spend spare hours in the gym, honing his free-throw shots, lay-ups, and fast breaks. He was widely known for his basketball abilities, speed and tenacity on the court. Some thirty-five years after that high school career, his daughter, Julie, was on a trip to Juneau on tribal business and was surprised by the Lieutenant Governor Loren Leman approaching her after discovering her linage. Leman said he just had to tell her about his admiration of Elmer, his rival on court, and about Elmer's Midas touch on the basketball.
After graduation from high school, Elmer pursued college, and technical training in Oklahoma to attain his certificate in Avionics. Returning home, Elmer acquired a job with the FAA but went on to work for Alyeska Pipeline Services, and many other companies that valued his talented approach to problem-solving and his mechanical know-how. Though eternally humble, Elmer could build anything, and fix almost everything and enjoyed a challenging project. He was known for his electrical, welding, carpentry, and mechanical skills. He liked to say that set the bar high for all the men in his daughters' lives and worked to ensure that he successfully passed on those all-around handyman skills to his son, Clint.
In October of 1968, Elmer began the best career of his life as a father when Julie Anne was born to his wife, Vicki Marie Edwards. Clint Robert was born of the union in June of 1971. Though the marriage ended in 1972, Elmer stayed close to the children in their hearts and he added three more girls, Sarah Rae, and then Rita Marie in September of 1980 and Vanessa Renee in July of 1983 to his family with a marriage to Nancy Louise Fagin. Though the union ended, Elmer adored his children and instilled his love for the outdoors and a traditional Native subsistence lifestyle. His kids, nieces, nephews, and grandkids have many fond memories of fishing trips, hunting, and berry picking with Elmer. He told stories and passed on his sense of humor, winning smile, and giving manner to all those around him.
Though Elmer held many political positions throughout his life, he was most proud of his time in service to the future generations of Ahtna people. He believed in taking care of elders and young people and wanted future generations to have a chance to have a traditional subsistence lifestyle and the ability to survive in an ever-changing world. He was a subsistence expert that did more than just talk or sit behind a desk; he lived the life, knew the history, terrain, the animals and the people of the land. Elmer was often tapped to help modify through testimony on state and federal hunting and fishing regulations that impacted Alaska Native peoples. Ever humble, Elmer would be quick to say that he didn't do it alone.
Elmer generously shared what he knew, shot or caught with anyone who needed fish or meat. He did so without asking for anything in return, and that big-hearted selflessness is what people will remember most about him. He was fiercely independent, generous to a fault, had a heart bigger than most. Elmer had many loves in his life; his parents, sisters, children, grandchildren, extended family, and the outdoors, but he found peace and happiness in the last few years of his life with Donna Renard. He said that he would like to spend the rest of his life with her, and he did.
Elmer is survived by his Parents Robert and Mae Marshall; Sweetheart Donna Renard; Sisters Judy and Roy Yates; Lucille Thomas and Jim Williams; Children Julie and Brent Marshall Jacobson, Clint and Katherine Marshall, Sarah and Gabe Thompson, Rita Marshall, Vanessa and Ryan Campbell; Grandchildren Charlie and Emmett Bator, Cydney and Ian Marshall, Rohan and Erik Butters, Isabella Thompson, Aedan Campbell; Nephews & Nieces Jason Thomas, Robert Thomas, Russell Yates, Michael Finch and Jessica Hays (and son Aiden),Tracee and Matt Finnell (and daughter Skylar),Heather Yates and Wesley Davis, Ashley and Joel Rosas, Michelle Marshall and sons Ryne and Zjhandon and daughter Jasznia.
Elmer was preceded in death by his Maternal Grandparents Joe and Martha Goodlatow; Paternal Grandparents Bob and Maude Marshall and Sister Norma Marshall Finch.
Elmer would want his family and friends to remember him with a smile, and to continue his legacy with each hunting and fishing season.