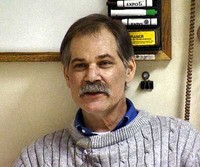 Dale O. Wyatt was born on June 27, 1951 and passed away on September 2, 2004.
He served in the Navy and was stationed at Naval Air Station Adak. He served as an avionics technician and supported the Lockheed P3 Orion, incredible planes that have been in maritime surveillance and patrol and anti-submarine warfare service for over 50 years.
Dale and his wife Joanne, and children, Joshua and Laura, lived in Eagle River, Alaska. They were very active in the Alaska Children's Choir. Their two children were members of the choir. In 1998, Joanne became the manager of choir.
Dale was hired to work for Alyeska Pipeline Service Company about May of 1990. He worked as a SCADA tech at PS 3 and PS 4. where he maintained the radio and telephone communications systems, security systems, Galbraith Airport Navigational Aids for the crew change aircraft, the communication system for the remote gate valves, earthquake monitoring system, leak detection system and important of all at these remote sites, the television system. Dale was the first SCADA tech to arrive at the Oct. 4, 2001 MP 400 incident and immediately began setting up emergency communications for the response crews.
Above information and photo provided by co-workers.
If you have additional information post a comment,
or use Contact Us to send it to me.
Larry Motschenbacher