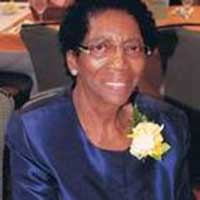 Georgia Edith Blackburn
Born: December 01, 1931
Died: August 18, 2013
"A flame in the dark, flickering loves true light of unconditional love that shines so bright".
Georgia Edith Blackburn was born on December 1, 1931 to the late, L.V. Johnson and Mary Lee Miskel Johnson of Kentwood, Louisiana. She graduated from Booker T. Washington high school, June 5, 1952. She worked for Charity Hospital in New Orleans, La. as a nurses aide, where she met and married the late Willie R. Blackburn, Sr. on April 9, 1955. They were married for 45 years. She was a devoted wife, and mother who alongside her military husband, traveled throughout the United States and abroad until their tour of duty bought them to Fairbanks, Alaska where she lived for 42 years.
She worked for Fairbanks Memorial Hospital, Alyeska Pipeline and later the Fairbanks Home Health Services.
Georgia Edith Blackburn, was actively involved in her children's education and their various activities, always encouraging them to pursue their goals. She had a very special bond with each of her grand and great grandchildren.
In her spare time she enjoyed being part of the Senior programs in Fairbanks and Atlanta as well as giving back to the community through the NAACP , and as an Advisory Council member for the non-profit organization, Divas With A Cause, Inc. Her laughter, lighthearted wit, gentle touch, love for life will be greatly missed but never forgotten. She was as a quiet peaceful kind neighbor, a law abiding citizen and a women you were pleased to know. But regardless of our worth or vocation in life, when our appointed time comes, we must go. At 3:00 p.m. Sunday, August 18th our Lord and Savior, came an escorted Georgia Edith Blackburn across the Jordan River to a place where there is no more sickness, sorry or pain. She was not alarmed at the thought of dying, knew her time had come and found assurance in the words of one of her favorite songs, "Blessed Assurance".
Georgia Edith Blackburn was preceded in death by her husband Willie R. Blackburn, Sr.; Son (Anthony), infant Daughter (Angel Georgia), Mother (Mary Lee Johnson), Aunt (Edith Miskel Larry), Aunt (Georgia Lee Atkins), Uncle (Richard Miskel), Uncle (J.C. Miskel).
She is survived by her six loving children who will always cherish her memory. Jacqueline M. Bradley of Marietta, GA.; Lester V. Blackburn (Jessie) of Fairbanks, AK; Willie R. Blackburn, Jr. (Debra) of Fairbanks, AK; Maryline M. Blackburn (Alan) of Smyrna, GA; Benjamin R. Blackburn of Fairbanks, AK; Gwendolyn M. Blackburn of Austin, TX; eleven grandchildren (Katina (Rashid), Glenn, Larisa, Casey, Rosemary, Willie III, Whitne', Anthony, Quinton, Zavier, Havean); seven great-grandchildren (Jasmine, Calvin, Tyler, Armand, Nehemiah, Kisha, Donte); Sisters- in-law Martha Blackburn, Sharon Blackburn, Brother in-law Matthew (Diane) Blackburn, Jr., and a host of nieces, nephews, cousins and friends.
Tentative Funeral Arrangements have been schedule for Saturday, August 24, 2013 at 2:00 PM at Mt. Olive Missionary Baptist Church in Mt. Hermon, LA. Interment will be held in Mt. Olive Cemetery. Please sign the guestbook at www.crainandsons.com.