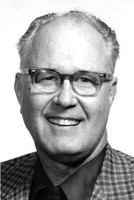 Joseph Willing
January 15, 1925 - August 5, 2016
Joseph Leslie Willing Jr., "Joe," passed away on Aug. 5, 2016, at the Pioneer Home in Anchorage, Alaska. Joe was born on Jan. 15, 1925, the son of Joseph and Eunice Newberry Willing of Tulsa, Okla., and grew up there with his three sisters.
Joe was active in Boy Scouts and participated in weightlifting and wrestling. During World War II, he graduated from Will Rogers High School in Tulsa, and went on to become a mechanical engineer at the University of Texas through the Navy's V12 Program. After the war, he was employed by Humble Pipeline, which is now ExxonMobil Pipeline. He was sent to work in Midland, Texas, and met a schoolteacher there, Margaret "Peggy" Ott, and married her in August 1953. They moved to Corpus Christi, Texas, in 1955, then on to Houston, Texas, in 1958.
Exxon sent him on interesting assignments to France, Germany, Nicaragua and Libya before starting preparatory work for the construction of the trans-Alaska pipeline in 1968. The pipeline project was the most exciting one of Joe's career.
Joe and his family moved to Anchorage in 1974. They loved Alaska and the church home they found at Anchor Park UMC. For many years Joe was a faithful and serving member, assisting in many jobs and being a wonderful living example of a true Christian. He was a member of the choir until his Parkinson's left him unable to sing. However, he still tried to sing at the Pioneer Home at singalongs, services and with the caregivers, too.
Joe had two favorite hobbies: photography and horses. He was always there with a camera in hand, whether taking shots of the family or loading a pig in the trans-Alaska pipeline. He also enjoyed taking care of their three horses, with the barn only steps from their home on Cranberry Hill.
Joe is predeceased by his sisters, Mary Pickard and Eunice Pickard. He is survived by his wife, Peggy; sister, Kathleen Van Valin of Pennsylvania; son, Paul and Jody Willing of Anchorage; daughter, Mary Beth and Zo Carroll of Marana, Ariz.; son, Chuck and Ann Willing of Tulsa, Okla.; grandchildren, Taylor Willing of Anchorage, Trevor Carroll of San Diego, Calif., Maya Carroll of Tucson, Ariz., Moriah Holmes of Oklahoma City, Okla., and Sarah and Jacob Willing of Tulsa, Okla.
Memorial services will be held at Anchor Park United Methodist Church on Saturday, Aug. 13, 2016, at 3 p.m. In lieu of flowers, the family requests donations be sent to Anchor Park United Methodist Church: 2300 Oak Dr., Anchorage, AK 99508. For any questions, please contact Judy Pendleton at 907-250-8464. Arrangements are with Janssen's Evergreen Memorial Chapel.
Services at Janssen Funeral Homes, Anchorage, AK
Published in Alaska Dispatch News on August 9, 2016