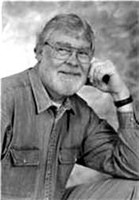 David William Richards passed away on February 20, 2015 in Eagle River, Alaska.
He was in his home, surrounded by family.
Born in National City, California, he spent his teenage years on the Monterey Peninsula, graduating from Pacific Grove High School. He loved his time at PGHS and as an active alumnus continued to attend reunions for the next 50 years. After two years at Monterey Peninsula College, he was stationed at Fort Ord with the US Army Corp from 1959-1961, serving as a Company Clerk.
The summer of 1962 he drove from Carmel, California to Juneau, Alaska and upon arrival claimed it to be "the most beautiful place on earth." He met Charlotte Rudolph in September of 1969 and they were married at the Shrine of St. Terese on May 9th, 1970. They were married just shy of 45 years. He is the father to Kelly Richards Merrick and Erin Richards, father-in-law to Joey Merrick and grandfather to Hunter, Brody and Roxie whom they called "Papa".
Over the years he has been a member of both the Carpenters Union and the Laborers' Union. He was involved in the construction of The State Office Building, Alaska Court Building, Goldbelt Building, Juneau Fire Department and other commercial construction. As a young man in California he worked as a set builder in the movie industry. During a short hiatus from Juneau, he worked on the reconstruction of the Palace of Fine Arts in San Francisco which was originally built for the World's Fair in 1915. He owned David W. Richards General Contractor for over 20 years. Never one to be idle, he continued working at age 77 where his final working days were spent at the Alyeska Pipeline Terminal in Valdez. He ran the woodshop where his greatest pleasure came from mentoring young workers and chatting it up "with the old guys."
He served as an officer in the Juneau Home Builders Association and contributed time and talents to numerous community activities. He served for many years on the Alaska Workers Compensation Board and the Workers Compensation Appeals Commission.
David was a warm man, a great friend, a hard worker with a hearty laugh and big handshake for every person he met. He was an incredible family man who exuded kindness and a true gentleman. He is survived and deeply missed by his immediate family as well as brother, Paul Richards and sister, Paula Sardina, sister-in-law, Veronica Rudolph, the "Lennon Sisters" cousins. He will also be greatly missed by close family friends for more than 30 years, the Beadles, Parsons, Scribners, Gruenings, Carters, Arnoldts, Keltons, Simpsons and Quiggs, about whom he spoke lovingly, "We raised our kids and we raised each other." And now we raise our hearts to you sweet Papa.
There will be a memorial service Saturday, March 14 at 11:00 a.m. at St. Paul's Catholic Church in Juneau.
Published in The Juneau Empire from Feb. 28 to Mar. 28, 2015.