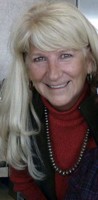 Karen Davey Stewart, 62, of Valdez, Alaska, died in an ATV rollover accident in the Valdez area on Sept. 7, 2015.
She was born in LaGrange, Ill., on Dec. 29, 1952, to Arlene (nee Meisgeier) and George Davey. Karen received a Bachelor of Arts in Education and Sociology from Fort Lewis College Colorado in 1976. She was employed by the Durango Colorado Ski Corporation at Purgatory Resort, during which time she met and married her first husband, John McCune. Photos of her amazing skiing exploits still remain in the Purgatory Resort Lodge to this day. Both ski enthusiasts, John and Karen left Colorado in 1988, for the mountains of Valdez, where they made their new home. In 1996, John was killed in an aviation accident while hunting in the Wrangell Mountains. In 2003, Karen met and married Brett Stewart of Valdez.
Karen helped pioneer helicopter skiing in Alaska as a co-founder of World Extreme Ski Champions (WESC) with her late husband, John, in 1990. As a tireless volunteer worker during the ten years of WESC, Karen championed skiing in Chugach Mountains statewide and internationally, serving as WESC President for five of those years. WESC subsequently created a lasting and positive economic impact in the skiing industry in Alaska.
At the time of her death, she was employed by Alyeska Pipeline Service Company as a compliance and documentation specialist, and had been an integral force in the company in various capacities since 1988. Her love and enthusiasm for her community was evidenced in all the time and effort she put into various civic entities. She was an active member of the Valdez Museum and Historical Archive Association, City of Valdez Economic Diversification Commission, Valdez United Way, Junior Achievement, Valdez Gold Rush Days, Friends of the Valdez Animal Shelter, Valdez Elks Lodge No. 2537, Food Bank of Valdez and KCHU Public Radio. She was honored with the Advocate for Victims of Violence "Woman of Distinction" award in 2008.
Upon learning of her passing, Governor Bill Walker said, "Having just seen Karen a few weeks ago at a Valdez Gold Rush event, it was shocking news. Karen was such an inspiration to all of us who had the privilege of knowing her. Her support for Valdez and her family was truly inspirational."
Karen got her spirit of adventure and love of the outdoors from her dad, George, and her tenacity and strength from her mom, Arlene. She was an avid participant in all types of outdoor activities including snow machining, fishing, hiking, 4-wheeling, and her first love: skiing. She was also a Master Gardener, having received her certification in that program in 2014. She chaired the Gold Rush Days Golden Rock Award Program for many years that recognizes outstanding gardens and gardeners in Valdez. The many beautiful gardens in Valdez today are a tribute to Karen's efforts.
To know Karen was to love Karen. She had a way of looking at the world that put a twist of humor, creativity, compassion and fun into every occasion. We will miss Karen but take comfort in the many, many "Karen Davey McCune Stewart Stories" and memories that will keep her alive in our hearts.
Karen leaves behind her loving husband, Brett; son, Ryan McCune (Gianna); daughter, Darcy (Mike) McCune Swymeler; stepson, Nick Stewart (Kristi); grandchildren, JonCarlo McCune, Quinn and Corbin John Swymeler and River Stewart; father, George Davey; brother, Jeff Davey (Pam); and nieces, Amanda, Carolyn, Kim and Laura Davey. Her mother, Arlene; first husband, John McCune; and beloved dog, Nutmeg, preceded her in death.
It is with great sadness that we say goodbye to Karen. Her family, friends near and far, as well as the community of Valdez will truly miss her.
Donations are being accepted at Wells Fargo in Karen's name to establish an annual scholarship for a Valdez High School senior demonstrating outstanding community involvement.
A tribute service and potluck will be held on Saturday, Sept. 19, 2015, from 2 p.m. - 5 p.m. at the Valdez Civic Center. Friends are also invited to join the family in a memory-sharing event immediately afterwards at the Valdez Elks Lodge.
By Lee Revis, Editor, Valdez Star,, Vol 27, Edition 37, Sept. 16, 2015
Published in Alaska Dispatch News on Sept. 15, 2015