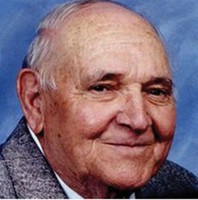 P.L. (Leon) Fletcher of Corsicana passed away Friday, June 5, 2015 at Brookdale Assisted Living in Corsicana. He was born Sept. 15, 1917, to Percy and Lila Fletcher in Kerens, Texas. He moved to Corsicana at the age of 3 and graduated from Corsicana High School in 1935. He was a member of the Corsicana 1932 Championship Football Team.
He is preceded in death by his parents Percy and Lila Fletcher.
He married Merinelle Clark on Sept. 19, 1942 and they were blessed with two children, Daun and Scott.
Leon enlisted in the Army Air Corp in 1942 and was discharged in 1945. He was employed by Magnolia Pipeline for 32 years living in Corsicana, Houston, Freer, Luling and Anchorage, Alaska. He was loaned to Alyeska Pipeline in Alaska to assist in finishing line and bringing in the first oil from Purdhoe to Valdez in 1977. He retired from Mobil and stayed two more years with Alyeska.
Leon loved the YMCA, especially Peggy Campbell and her swim class. He was privileged to serve two terms on the YMCA board. He and Merinelle loved to travel and saw most of the world.
Leon is survived by his wife of 72 years, Merinelle, daughter, Daun and husband Tom Wilson, son Scott Fletcher and wife Janet, grandchildren, Mark Wilson, Julie Wyatt, Polly Hawthorne, Christopher Fletcher, and seven great-grandchildren.
Visitation will be 1 to 2 p.m. Tuesday, June 16, 2015 at Griffin-Roughton Funeral Home. Memorial service will be 2 p.m. Tuesday, June 16, 2015 at Griffin-Roughton Funeral Home Chapel.
Family would like to thank the caring staff at Brookdale Assisted Living and Hand and Hand Hospice.
Published by the Corsica Daily Sun on June 11, 2015
---
In lieu of flowers, donations may be made to Navarro County Humane Society, Hand in Hand Hospice 208 S. 31st. Corsicana, Texas 75110, YMCA 400 Oaklawn Corsicana, Texas 75110 or charity of you choice.
To send flowers or a memorial gift to the family of P.L. (Leon) Fletcher please visit our Sympathy Store.