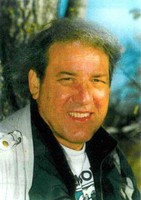 Loren C. Pitchford (1943 - 2015)
Obituary
Longtime resident, outdoor author, avid sports fisherman and former Alyeska Pipeline Manager Loren C. Pitchford passed away at Providence Hospital on Oct. 16, 2015.
Loren was buried at Angelus Memorial Cemetery on Oct. 23, 2015. A Celebration of Life will be held at 11 a.m. on Saturday, Nov. 14, 2015, at Legacy Funeral Home, Heritage Chapel at Angelus, 440 East Klatt Road. Flowers may be delivered directly to the funeral home.
Loren first came to Alaska as a University of Washington student intern, working with the State of Alaska fisheries management program. Struck by Alaska's magnificent scenery and the bountiful fishing opportunities, he vowed to someday make Alaska his home. Loren was born in Tacoma, Wash., and raised in Yakima, Wash., where, as a teenager, he was lead singer and dazzling piano player for a rock band, The Klasics. With monies earned from this venture and academic scholarships, he was able to finance his education at the University of Washington, where he graduated in 1967, with a Bachelor of Science degree in Research Science and a minor in Business Administration. After college, he utilized his business degree working with the Union Pacific Railroad as Assistant Superintendent of Safety Operations and then for Bumble Bee Seafood as a Director of Personnel. Then in 1974, while working in Tahiti, Loren's dream to return to Alaska came to fruition when he was offered a position with Alyeska Pipeline Service Company as their Manager of Compensation and Benefits. He packed his bags and never looked back. Loren enjoyed working at Alyeska for more than 20 years, where he developed and implemented many progressive Human Resource programs. He found great satisfaction in flying out to the Pump stations, speaking with the employees and explaining their benefit packages. Loren's direct manner was deeply appreciated.
Besides being passionate about his professional life, Loren was an accomplished sports fisherman and author who loved sharing his adventures. He had a knack for making his audience feel they were right there beside him on the stream, in the midst of the action. He wrote more than 25 articles which were published in various outdoor magazines, such as "Salmon Trout Steelheader" and "Alaska Outdoors." Later in life, he wrote and illustrated a book, "Real Alaskan Fish Tales," which recounted many of his fishing adventures interspersed with humorous anecdotes. Gardening was another of Loren's passions. During planting season he scoured the local nurseries for just the right additions to his annual and perennial beds in much the same manner a gourmet cook searches for just the right ingredients for a particular dish. He thoroughly enjoyed taking friends on "the tour" once everything was in bloom.
Loren was a committed and loving husband to his wife of more than 32 years, Cheryl, in whom he took great pride. He was perfectly content being a "homebody," sitting on the porch with her while listening to the birds and watching the sunsets slowly and colorfully materialize. He also enjoyed travel and the new adventures it presented: Hawaii for sun and cultural change; Canada for fishing and sightseeing; and Seattle, Wash., to visit friends and participate in the Christmas Regatta were all favorites. Farther reaching travel included "lifetime" trips to Scotland, Ireland, England and a historic Rhine River Cruise. Topping his list of favorite places to go, however, were his Alaskan fishing trips, too numerous to count.
Loren was a talented, charismatic, gregarious and loving husband and friend, who left a legacy of sharing his enthusiasm for life and for pursing his dreams, despite the challenges. "Carpe Diem" was his motto. He will be forever, loved and missed by those who knew him.
His is survived by his wife, Cheryl Pitchford; and by his "Alaskan and Seattle family," Pete and Tammy Scott, David Brown, Carl Pearson, Sue Doherty, Bob Weel, Susan Hooker, Wendy Trasky and Cameron and Irish Strong. He is preceded in death by his parents, Frank and Louise Pitchford.
To share condolences or memories please visit the guest book at www.legacyalaska.com. - See more at: Legacy Funeral Homes
Published in Alaska Dispatch News on Nov. 8, 2015