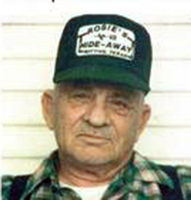 Alvin Lee "Al" Deemer
Born: November 14, 1931
Died: September 17,
Alvin Lee "Al" Deemer, 83, passed away on September 17, 2015, at Hilltop Manor, in Cunningham, KS. He was born November 14, 1931, in Hoisington, KS, to Andrew J. and Anna G. (Ernst) Deemer.
After graduating from Sublette High School in 1950, he enlisted in the U.S. Army and served in Germany with the 64th Field Artillery Battalion – 25th Infantry Division, and in the Korean War with the "C" Battery 979 Field Artillery Battalion. He achieved the level of Corporal and received the Army Occupation Medal, the Korean Service Medal with two Bronze Stars, the United Nations Service Medal, and National Defense Service Medal. In 1952, Al was honorably discharged.
On October 30, 1954, Al married Iva Mae Quimby of Hugoton, KS. To this union, three children were born: Justin, Kristy, and Brett. For 20 years, the Deemer family made their home in Woodward, OK. For the past 37 years, Al resided in Cunningham, KS.
During his 42-year career as a pipeline welder and welding inspector, Al worked for Michigan-Wisconsin, Northern Natural Gas, and the Fluor-Daniels Company. From 1975-1977, he achieved his lifelong goal to weld on the entire span of the Alyeska (Alaska) Pipeline, followed by working on the Escravos-Lagos Pipeline in Nigeria, Africa. Al retired in 1995.
Besides spending time with this family, friends, and golden retrievers, Al enjoyed fishing, gun-collecting, target-shooting, and reading. He was a member of the Pipeliners' Union 798, VFW, American Legion, and the National Rifle Association. He will always be remembered for being a wonderful father, and a leader with remarkable intelligence, generosity, humor, and patriotism.
Survivors include his son, Justin Deemer and wife Beverly, Norman, OK; daughter, Kristy Deemer and her fiancée Ray Resnick of Palm Harbor, FL; and son, Brett Deemer and fiancée Melissa Mitchell of Blanchard, OK; grandchildren, Andrea and Massoud Khandani, Justin Tell and Angela Deemer, Bryce and Brittany Deemer, and Blake Deemer; seven great grandchildren; four nieces, seven nephews; and, dear friends, Wallace and Kelly Hartley of Cunningham, KS.
He was preceded in death by his parents; sister, Viola Mae Cross; and grandson, Tyrell Jacob Deemer.
Prior to cremation, a private family service was held at Elliott Chapel in Hutchinson, KS. Al's cremains will be scattered near the South Fork Ninnescah River. In lieu of flowers, donations can be made to Kansas State University's School of Veterinary Medicine in Manhattan, KS, or to Gentiva Hospice of Hutchinson, KS, both in care of Elliott Mortuary, 1219 N. Main, Hutchinson, KS 67501.