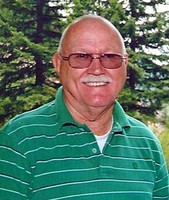 Jerrell C. Crawford
December 4, 1934 - August 24, 2015
Resided in Mont Belvieu, TX
Obituary
Jerrell C. Crawford, 80, of Mont Belvieu, Texas, peacefully passed away on Monday, August 24, 2015 at his home in Mont Belvieu surrounded by his family. Jerrell was born in Hobbs, New Mexico on December 4, 1934. Although he was born outside of Texas, there has never been a man more Texan. He graduated from Abernathy High School in 1953 and married Nan, the love of his life, that same year.
Jerrell had a long career with Exxon Pipeline Company as a mechanic retiring in 1995. His legacy continues today with 2nd and 3rd generations following in his footsteps. The highlight of his career was his opportunity to work on the Alyeska Pipeline in 1994.
Jerrell and his wife Nan have a large family that mean the world to them. His character and wisdom will be passed on for generations to come. He never missed a family gathering and always welcomed new friends into the Crawford clan. He was a simple man. Enjoyed a good western. Only gave his opinion when asked. Cherished his wife above all else. And never had a bigger smile than when surrounded by family and friends.
Jerrell was preceded in death by his parents, James and Mildred Breedlove; grandchildren, Crystal and Chance Crawford and great-grandchild, Michael Clay Crawford III. He is survived by his wife of 62 years, Nan Crawford, as well as four children: Glenn David Crawford and wife Sharon of Cypress, Mike Crawford and wife Vicki of Kemah, Cathi Barnett and husband Dickie of Mont Belvieu, and Phil Crawford and wife Mildred of Baytown. He is also survived by brothers, Richard Crawford and wife Beth, and Randall Breedlove; sisters, Corki Daniel and husband Cecil, and Sharon Doshier and husband Ron; uncles, Jim Crawford and wife Natalie, and Jerry Crawford and wife Martha; aunts, Helen Crawford and Joyce Crawford; 13 grandchildren, 15 great-grandchildren as well as numerous nieces, nephews, cousins and friends.
A visitation will be held Thursday, August 27, 2015 from 6:00 p.m. to 8:00 p.m. at Navarre Funeral Home. Funeral services will also be held at Navarre Funeral Home Friday, August 28, 2015 at 9:00 a.m. In lieu of flowers the family requests donations be made to the charity of your choice. To view the online obituary or to post a tribute for the family, go to www.navarrefuneralhome.com Arrangements are under the direction and personal care of Navarre Funeral Home & Cremation Services, 2444 Rollingbrook Dr., Baytown, TX, 77521 (281) 422-8111.
From Navarre Funeral Home & Cremation Services, Baytown, TX
and posted in The Baytown Sun, Wednesday, Aug 26, 2015