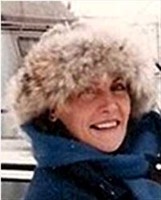 Anne Heaton Robinson D'Olier, 65, passed away on July 8, 2014, in Sandpoint, Idaho, the town she loved so dearly. Anne was born on July 5, 1949, in New York City. She grew up in Manhasset on the north shore of Long Island. Anne graduated from Oakwood Friends School in 1967, and later attended Emerson College in Boston.
Near the end of 1970 Anne got the itch to come out west, settling in Aspen, Colo., where she began her lifelong love of skiing. Starting from the Snow Chase Lodge where she met, and later married her first husband Bill D'Olier, Anne worked her way through a skier's paradise over the next five years from Aspen, to Alta and Snowbird in Utah, and even up to Schweitzer in Idaho. In the summer of 1975 she moved to Fairbanks, Alaska, after divorcing Bill, although they would be lifelong friends.
In Alaska, Anne quickly found work through minority hire as a union laborer on the Trans-Alaska Pipeline, where she endeavored to prove herself as a hard worker and not just gifted with a job. In 1980 while working on the Alyeska pipeline, Anne met her second husband, Dave Cory. They would eventually marry and have two children - Matthew Cory in 1984, and Alexander Cory in 1988.
Anne and Dave enjoyed various world travels ranging from a honeymoon in Kenya, to a tropical retreat in Fiji. Along the way Anne attended the University of Alaska Fairbanks from 1984-1988 where she graduated with a BA in history and minor in business.
In 1989, Anne moved back to Sandpoint, a place she knew and loved. A place where there was a regular growing season and much less darkness. Anne always loved everything about the Sandpoint and North Idaho region in general, including the awesome skiing at Schweitzer, the sailing possibilities on Lake Pend Oreille, and the rich soil that she loved to garden in. Around this time, Anne divorced Dave Cory and began her life working in Sandpoint, raising her two sons.
In 1999 Anne moved with her sons to Hayden, Idaho, and it was here that she began to have memory problems. In 2006, Anne finally agreed to see a doctor, and in 2008 she was diagnosed with early onset Alzheimer's. She lived with the disease getting progressively worse and taking away the one thing our mom could not live without: Her self-sufficiency.
Anne was known by her many friends as a loving, creative lady who always had a great amount of positive energy to put forth into her endeavors; she brightened the lives of those around her. She was an incredibly understanding and accepting person. And did we say she loved to ski? Anne also enjoyed tennis, sailing, and travel, to name a few other things.
Anne was preceded in death by her mother, Nancy Scott; father David Robinson; and stepfather, Robert Blanc. She is survived by her sons, Matthew Cory and Alexander Cory; sister and brother-in-law, Scottie and John Harrison; stepbrothers Robert and Roger; nephews Nicko and Sam; special thanks to Dorris Norton and Heather Strong for years of compassionate friendship and care; and the Huckleberry Retirement Home for their exceptional care in her last months.
A memorial service will be held at 2 p.m. on Saturday, Aug. 23, just outside Sandpoint at the residence of Pam Aunan, 213 Third St., in Dover. Please bring a snack or beverage. Come share your memories, pictures, and stories of Anne. All are welcome. Quaker style silent grace/open worship. Please refer to funeralwise.com/customs/quaker/
From CDA.com (The Coeur d' Alene Press), Coeur d' Alene, ID on Augest 20, 2014