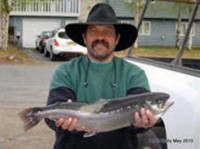 Bob Burton
1953-2016
Bobby Gene Burton passed away peacefully on Feb. 24, 2016, at the age of 62, in Oceanside, Ore. He had battled cancer for eight years and was surrounded by loved ones when he passed.
Bob is survived by his mother, Teresa Cortez of Las Cruces N.M.; children, Cal Burton of Anchorage, Alaska, Mikinzie Burton of Flower Mound, Texas, and Amber McGee of Valdez, Alaska; and siblings, Jim Burton of Ninilchik, Alaska, David and Mike Burton of Anchorage, Patty Shroy of Homer, Alaska, Kathleen Amand of Las Cruces, N.M., and Pam Zielinski of Oceanside, Ore. He is preceded in death by father, J.T. Burton; and sister, Elizabeth Burton.
Bob was born on July 14, 1953, in El Paso, Texas. After moving to Alaska as a young boy, he was raised in Anchorage and graduated from East Anchorage High School in 1971. Bob was known as an arduous worker whose work ethic was admired by many. He made a great name for himself being a plumber with UA Local 367, which allowed him to work in many areas of Alaska.
Bob had a passion for the outdoors that he loved to share with others. He enjoyed countless adventures with family and friends all over Alaska. Whether hunting, fishing, digging for artifacts or just spending weeks in the woods, he rarely returned home empty handed. True to Bob's motto, there was not a mud hole that he could not get through; he proved that time and time again throughout his life. Bob was a self-taught super cub pilot who used his flight skills while commercial fishing in Bristol Bay and on various hunting trips. His love of fishing and hunting allowed him to provide food and fun for his family throughout the years.
Although shy to some, Bob never missed a chance to help anyone in need. He was a very caring man who loved his family. He was passionate about teaching his children and grandchildren valuable life lessons. His loved ones remember him as a kind, spontaneous, funny and caring man, who encouraged them to pursue their goals. He also taught them that you are only truly rich in life when you are close to your family. He had a charisma and charm about him that made people of any age love and admire him. Anyone who knew him has a story to tell; from his humor to his hard work he was certainly a remarkable and unforgettable man. Bob's adventures were countless, now he is on his final adventure, no doubt navigating superbly. He will be missed.
A celebration of life will be scheduled for a later time in Anchorage. All are welcome to attend and celebrate Bob's life. In lieu of flowers, please visit his memorial web page at http://memorialwebsites.legacy.com/bobbyburton to share a good memory or story.
[The celebration of life will take place on April 22, 2016 at 5 pm at the Bayshore Clubhouse in Anchorage, AK. All are welcome to attend and celebrate Bob's life. Note: The memorial service will be a potluck. Any dish to share would be appreciated]
Published in Alaska Dispatch News on Mar. 18, 2016